Discover more from Recreations by Maxime Eyraud
Exploring the intersection of media, technology, and culture.
Media & Entertainment Tech Report: 2019
A (late) review of the trends, initiatives, investments, and companies that made 2019
I'm excited to finally share something I've been working on for some time.
It's — you guessed it — a review of 2019 in Media & Entertainment Tech!
Let's get to it.
Some context 🧐
2019 was another busy year for Media & Entertainment Tech. With dozens of VC deals, product launches, and corporate announcements every week, it's becoming hard to keep track of everything that's happening in the space.
This review is my attempt to unpack the year and dive deep into the trends, initiatives, and companies that helped push the industry forward. Packed with insights from analysts, operators, and investors from every corner of the industry, it's a great overview if you want to understand the current state of the market.
Methodology 🤓
Focus
I define "Media & Entertainment Tech" as the intersection of media/entertainment and technology. This includes any technology product, service, or platform that impacts the value chain of media or/and entertainment in any way.
The space has come to encompass many industries, from gaming to publishing, to TV, movies, and music, to virtual and augmented reality, social and synthetic media – and everything in between.
It's also only growing larger, and more interesting, as the companies involved in those industries capture more of our time, attention, and spending.
Sources
The insights in this presentation were informed by publicly available sources, including: news media, industry publications, PR announcements, report write-ups, blogposts, and Twitter threads.
All those resources can be found on my personal website.
Data
The data, including investment activity and funding, derives from my personal database, where I monitor Media & Entertainment Tech deals across all stages.
I do not claim this data to be exhaustive. Information can be hard to come by, especially for early-stage companies, and public sources have their limits. My ability to track deals is dependent on the companies and investors that disclose them.
However, with over 260 deals monitored in 2019, I believe this research is representative of the larger investment activity in the space.
The result 👀
I've aimed to make this report data-driven, but also entertaining — as any presentation about entertainment should be. Some slides focus on analysis (Key takeaways, Trends, and Early Signals), others on numbers (Notable deals), and still others on specific companies (Focus).
Here's a peek at what this looks like: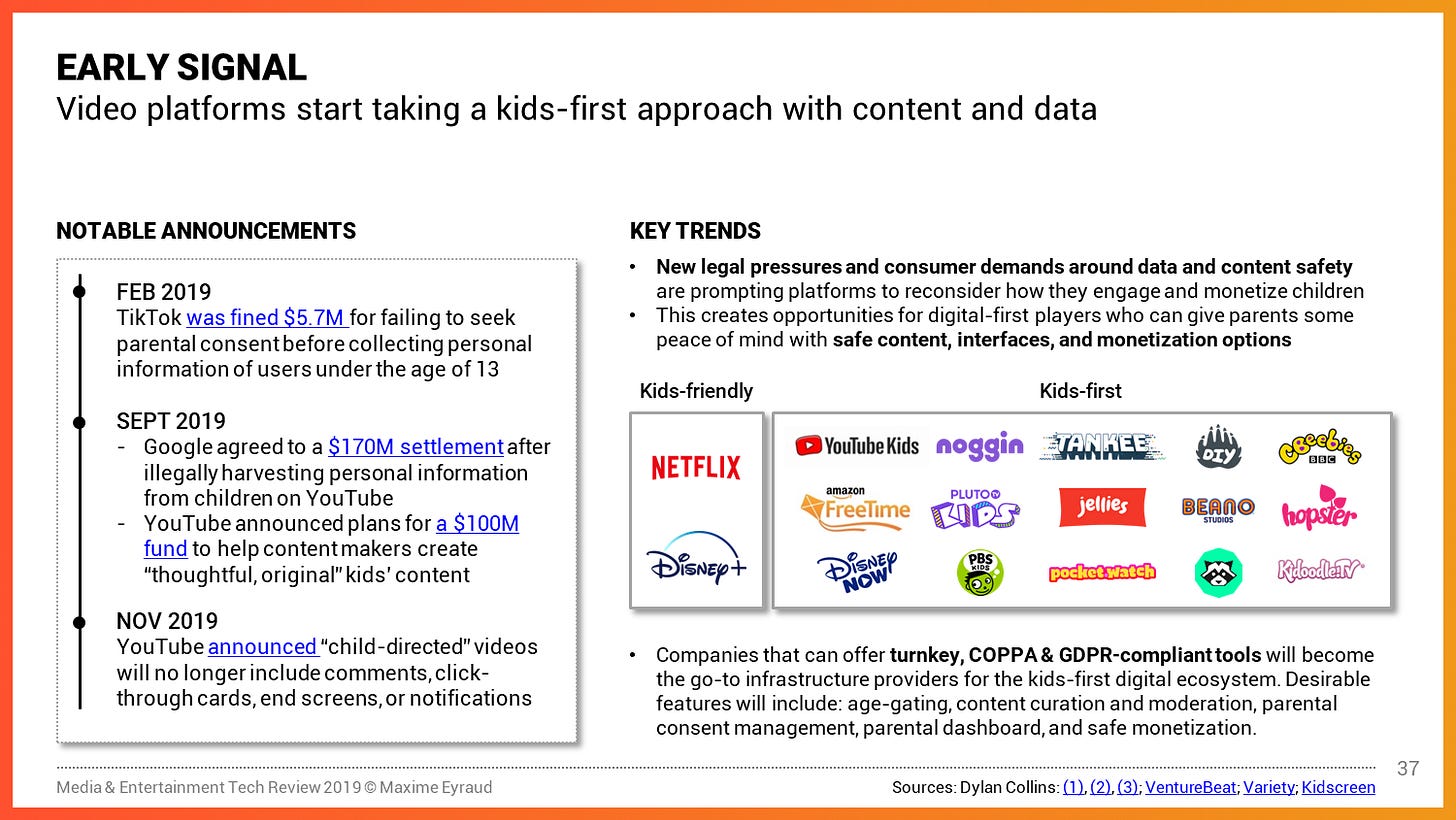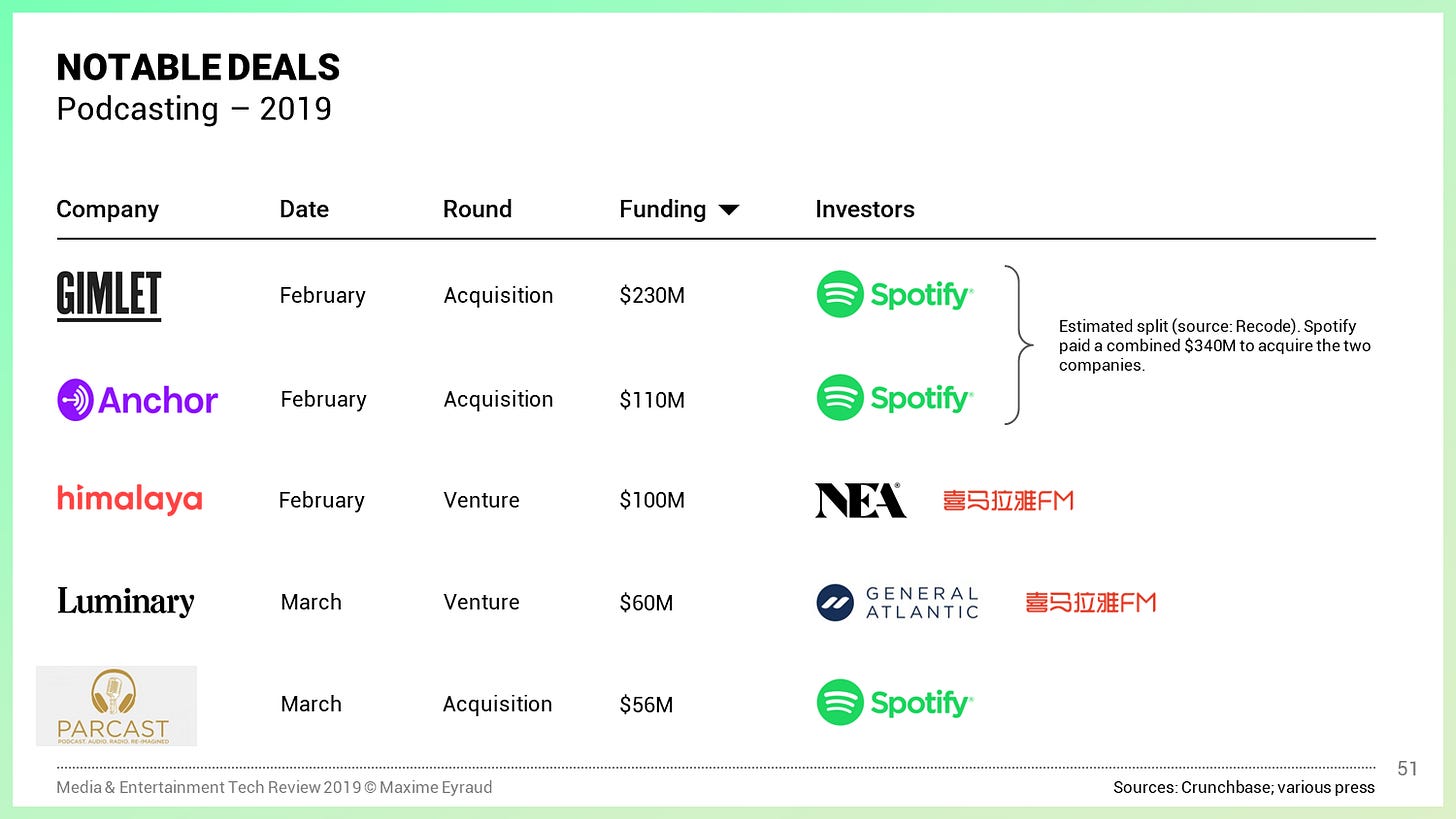 The full report is available on my personal website. You can get your own copy below.

Connect with me 📬
Putting together this presentation pushed me to structure my views on the present and future of an industry I'm passionate about. I hope it can be valuable to others as well, be they industry insiders or curious observers.
What did I do well? What could be improved? What trend(s) do you think deserved more attention? What sector would you want to learn more about?
If you have any comment or question, just let me know! All feedback is welcome.
I've just published a thread about this report on Twitter, and I'd love for you to join the conversation there.



One last thing! 📢
It's true, what they say: sharing is caring.
If you've found my work useful, I'd love for you to help spread the word. It helps a lot!
---
Recreations is a newsletter about the intersection of media, technology, and culture.
If you've enjoyed this edition, please consider forwarding it to a friend. If you're reading it for the first time, consider subscribing (it's free!).