Discover more from Recreations by Maxime Eyraud
Exploring the intersection of media, technology, and culture.
Say 'Hi' to Disney-flix
SVOD is only the beginning: Disney wants to own your entire visual entertainment experience.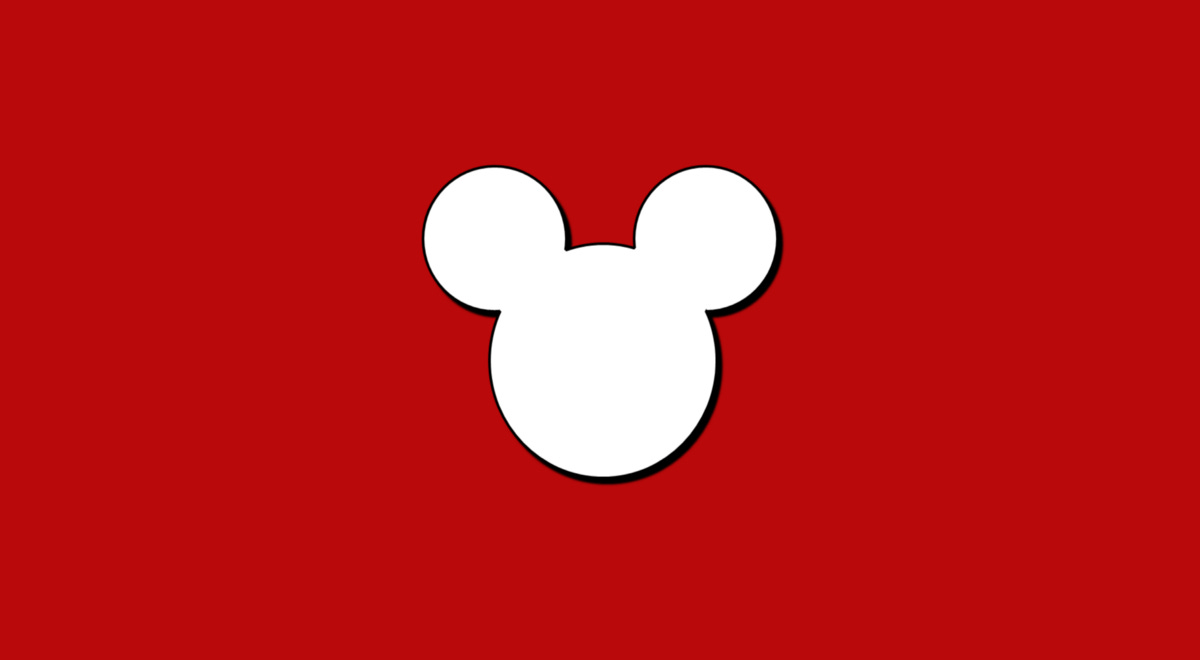 What happened
The Walt Disney Company announced on August 8, 2017 that it is acquiring another 42% of BAMTech, a streaming technology company that spun off from MLB Advanced Media, the interactive media branch of the Major Baseball League. Disney had acquired 30% of BAMTech earlier in August 2016.

Disney will be launching its own SVOD streaming offer starting 2018, and pulling at least part of its catalogue from Netflix in 2019.

The company plans to launch an "ESPN Multi-Sport Video Streaming Service" in early 2018, as well as a "New Disney-Branded Direct-to-Consumer Streaming Service" in 2019.

Some uncertainty remains as to what will happen to Disney's Marvel and LucasFilm feature films, which may remain available on Netflix.
Welcome to Disney-flix
Disney's upcoming SVOD services promises to be a one-stop hub for Disney's back catalogue as well as novel content and exclusives.
Library content and upcoming releases
If there's one thing Disney is famous for, it's animated movies, so it makes perfect sense that the company's upcoming service would center on what Disney does best. Disney and Pixar movies will logically serve as the platform's cornerstone, but the service will also include television programming coming from the group's Disney Channel, Disney Junior and Disney XD channels.
The service is expected to kick off in time for the Pay TV window for Disney's 2019 theatrical slate, which means that highly anticipated features such as Toy Story 4 and Frozen 2 will serve as a test bed for the studio to attract users to its new platform after their theatrical run.
The move has been long in the making. Disney has been operating its DisneyLife streaming service in the U.K. since 2015, offering access to a broad range of content, including movies, on-demand & live access to Disney's TV channels, e-books, and soundtracks.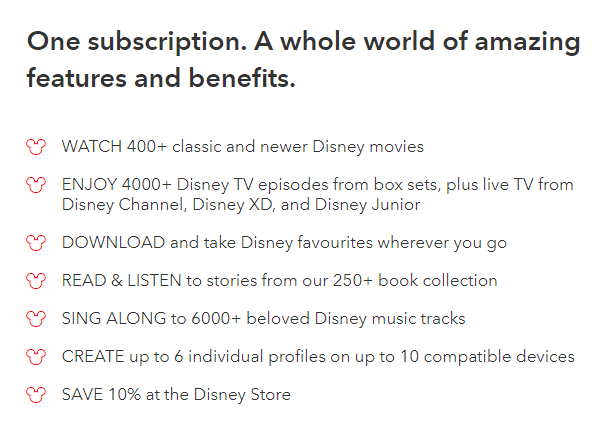 DisneyLife alone provides access to a wealth of content and features. (Credits: DisneyLife)
Evergreen fan engagement
The new dynamics of fan engagement will force Disney to provide at least some level of exclusivity to the users of its upcoming service. Customers today want to feel like they're involved in the journey of the content they love, and just because a season is over doesn't mean the relationship needs to stop. In fact, this can be done at every step of the process. This is something that Netflix understands perfectly, and has done many times, for many of its shows (like here, and here).
Disney has learnt how to do the same in the last years. While promoting the last two Star Wars movies, the studio showed a strong appetite, and talent, for sneak peaks, building up interest through ambiguity until the actual release of the films. Just look at how Marvel's Infinity War trailer was received at the last Comic-Con: If there's one thing hardcore fans love more than leaks, it's exclusivity.
It's not clear today if Disney intends to take its Star Wars and Marvel-branded movies off third-parties like Netflix and move them to its own platform. But with distinct universes and numerous storylines, these are precisely the sorts of franchises that would make for extended exclusives such as teasers, side stories, and limited-edition merchandising.
Some of the group's recent moves could indicate plans towards such exclusives. Disney has announced several spin-off movies that will be built around some Star Wars characters, including Han Solo and Jabba the Hutt. The more of these movies we see showing up in the coming months, the more content Disney will have available, the more likely it is that it will try to cash in on its franchises through exclusivity via its own platform. Nothing could stop the studio from leveraging and monetizing the massive fanbases waiting for them.
Short-form content
Disney's ambitions go further, as the company also plans to get involved in original and short-form video content — videos of less than 20 minutes, although the exact definition will vary from one creator to another.
Short-form has been thriving in the last few years, thanks mostly to the unstoppable race of consumers towards mobile, the growth of branded content on social platforms, and the emergence of a new generation of agile, Millennial-first production studios. This has led to a revolution in both the variety and the quality of the content available.
And the space is only growing: Nielsen's August 2017 report estimates that 54% of the general U.S. population have watched short-form video content in the last 3 months. Ericsson expects mobile video traffic to grow by around 50 percent annually through 2022 to account for nearly 3 quarters of all mobile data traffic, up from 50 percent in 2016.
Disney understands this perfectly and is betting big on mobile screens. In July this year, Hollywood veteran Jeffrey Katzenberg revealed that Disney is considering producing original content for Katzenberg's upcoming "New TV", which plans to revolutionize video entertainment on mobile.
Here, too, Disney has been playing the long-term game. In December 2015, it acquired Maker Studios, a Multi-Channel Network that produced original content for YouTube and managed thousands of high-profile, millennial-focused channels. In May 2017, the company was absorbed into Disney Digital Network, the group's newly created division. No doubt that having direct and easy access to influencers will help Disney execute its short-form endeavours.
An entry gate into Disney's offline offer
Ultimately, online streaming is really only one part of what Disney has to offer. This upcoming service could be combined with the company's existing products and services, both offline — think Disney World, for instance — and online.
This would turn Disney's upcoming SVOD platform into the main point of contact between the company and its customers. Or, as DisneyLife's website aptly puts it: "One subscription. A whole world of amazing features and benefits."
A service such as Comic-Con HQ has proved that both the off and the online worlds can be combined into a single compelling experience. According to its website, part of Comic-Con HQ's value proposition is to offer "unbeatable access to world-famous events such as San Diego Comic-Con and WonderCon."

Comic-Con HQ is bringing the offline and online worlds together. (Credits: Comic-Con HQ)
With hundreds of both owned and licensed Disney stores worldwide, Disney is one of the largest "retail-tainment" conglomerates, and has many ways to bring these experiences together, including through incentives. DisneyLife members, for instance, save 10% at the Disney Store. Offering such discounts through its upcoming SVOD service, would be a relevant benefit for a family-focused streaming service and would bring in additional revenues.
Direct-To-Consumer is not for every one
While every other studio or network out there might want to follow the Mouse's steps and go Direct-To-Consumer, this doesn't mean they should. Not everybody can be Disney.
Intellectual Property is everything
There aren't a lot of content owners today that can provide the same width of content as Disney. Today, the group owns:
a back catalogue of hundreds of both animated and live-action movies;

some of the most powerful brands in Hollywood through its Pixar, Marvel and LucasFilm subsidiaries;

and ongoing record-breaking franchises that can and will be split into distinct storylines — Star Wars is the obvious one here.
Add the ever-growing cross-over model that combines already massive IP's into one, and you have a powerhouse that very few content owners can claim to be today. While Warner Bros is getting there with its DC Extended Universe, Disney is still far ahead in terms of IP visibility.
The power of a brand
Anatomy Media's June 2017 report showed that younger Millennials today can't associate a program to its network. The current offering for video content is so fragmented that where exactly this content is coming from has become secundary to consumers. Platform fragmentation leads to less consistancy, which in turn means less brand recognition.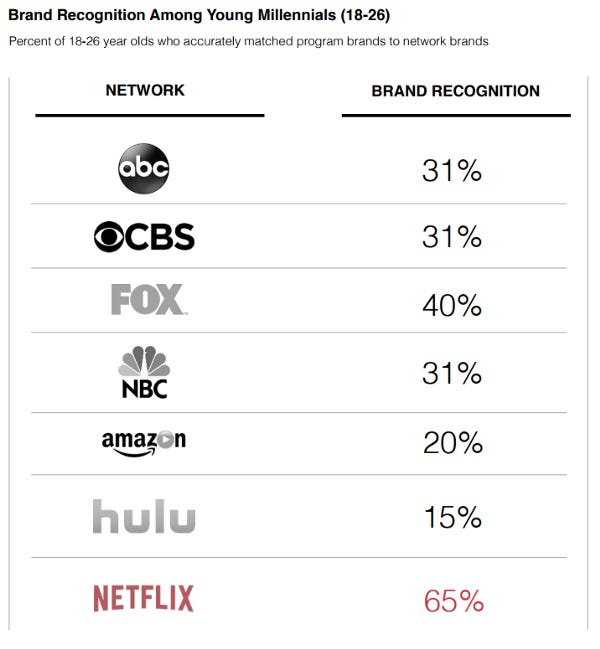 Young Millennials can't associate a network to the content it produces. (Credits: Anatomy Media)
Netflix stands as a notable exception. But the service has also proven time and again to be great at marketing its upcoming Originals, building up excitement, and developing highly-engaged communities around its shows. Sense8, for instance, is now getting a two-hour finale thanks to fan support, even though the show was canceled by the company.
Disney is one of the few brands powerful enough to draw entire families to the movies with pretty much any of its new theatrical releases. People will happily go out and see "the latest Disney movie". I'm not sure they'll do the same for "the latest Lionsgate/Paramount/[insert studio name] movie."
Hollywood's Direct-To-Consumer race has already begun
Still, other studios did not wait for Disney to test the Direct-To-Consumer waters through dedicated platforms. To date, most of them have been playing the SVOD card by launching or acquiring niche services focusing on highly specific communities, demographics, and/or topics:
In January 2016, Comcast's NBCUniversal branch launched Seeso, a comedy subscription service soon to shut down.

In February 2016, Warner Bros. acquired DramaFever, a niche SVOD service focused on Korean drama. Later in November 2016, the studio acquired Machinima, another streaming company that delivers gaming-focused video content.

In November 2016, Legendary launched Alpha, a service centered around unscripted original series ranging from fantasy to sci-fi to gaming. The service today still seems to be operating in stealth mode.
With Disney leading the way, and motivated by both the need to more directly engage customers and their , more studios are likely to pull a "me too" move and take their content to their own branded platform,
Considering Netflix wants an ever-increasing share of its library to consist in originals, it's really only a matter of time before video content from other studios is being pushed out of the service. People today are talking about how Disney pulling its content could hurt Netflix; in a not so distant future, Netflix will be the one kicking out other creators' content to make room for its own, by simply not renewing the licensing deals it has with content owners. When that time comes, this will be a powerful incentive for major studios to shift towards Direct-to-Consumer.
Talking business
SVOD is not a single-path model, and Disney will have to choose from many potential monetization channels.
Advertising is a no-go
Disney is no newbie when it comes to sellinds ads: Its ABC division has 8 owned-and-operated TV stations, while its sport conglomerate ESPN alone represents dozens of TV, radio and Internet assets that have long attracted advertisers. Hulu, a joint venture 30% owned by the group through its Disney-ABC subsidiary, also used to run ads on its streaming service.
Therefore, advertising would have been an easy route. By enabling multi-profile accounts like Netflix does, Disney could, for instance, serve highly targeted ads to every member of a household, depending on their age, genre, and media consumption habits.
However, an ad-based service simply isn't compatible with the quality experience Disney wants us to associate its content with. Serving ads also raises safety issues if a child is left unsupervised while using the service.
Data, data, data
While it may not be selling data to third parties, Disney will be using it in many other ways. In a revealing move, Disney's Burbank-based startup program recently incubated Samba TV, a company that provides cross-platform TV analytics to both broadcasters and advertisers.
Besides real-time viewership metrics, Samba TV offers insights on the way viewers engage with on-screen content. Broadcasters use these to surface curated content, fine-tune their programming according to who's watching at what time in the day, and better monetize their audience through targeted ads.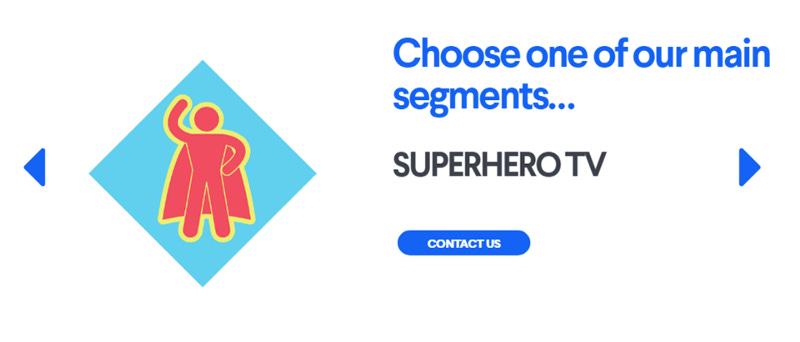 One of the many audiences broadcasters and advertisers can target through Samba TV's insights. (Credits: Samba TV)
By both owning and distributing the content, Disney can use Samba TV's technology across the entire value chain, aggregating valuable data that could help inform the content it should produce in the future.
One subscription can hide many others
Today, even "SVOD" can mean a lot of things. Netflix, for instance, presents you with three different pricing tiers, from Standard to Premium, depending on the desired image quality and the number of screens you can watch on at the same time.
Such a model fits Disney's broader content strategy. From allowing early access to shows, to adding edutainment programs for families, Disney has plenty of options to turn a standard service into a multiple-option one. ESPN, a channel 44.5% of respondants want in their ideal Pay-TV package according to TiVo's Q1 2017 report, can also be bundled into the service at a discount.
Disney is prepping for the all-encompassing future of home entertainment
In the end, Disney's announcements are not just about SVOD. Its upcoming streaming service is yet another move towards owning the entire visual entertainment experience.
Kid-focused video content
Disney's core offer has always consisted in family-friendly products and services. Through its feature films, apps and TV channels, the company already has a strong foothold in our living rooms and owns a fair share of any child's media consumption. Growing consumer interest in animated video content will only reinforce its position in the kid-focused media space.
While animated movies are nothing new, the past few years have shown significant change. Crunchyroll, a niche SVOD service with a focus on anime, announced in February 2017 that it had reached one million paying customers. Prominent platforms now want to cash in on the trend too: in January 2017, Amazon launched Strike, an anime-focused subscription channel, while Netflix announced in August a slate of 12 original anime series.
With already more than 50 theatrical animated features, and more coming, Disney is in a position where it can draw users thanks to its own content, without having to license third-party content at a premium in the first months of the service.
Disney's technological expertise will also come in handy and help the company to push kid-focused content even further. On that side, Disney has some catching-up to do with its competitors. In June 2017, Netflix unveiled "branching narratives", i.e. "Choose-your-own-adventure" shows that let users choose from dozens of decision points and decide what's going to happen next. These programs enable for a new form of interactive storytelling, turning the remote controller into a powerful engagement tool.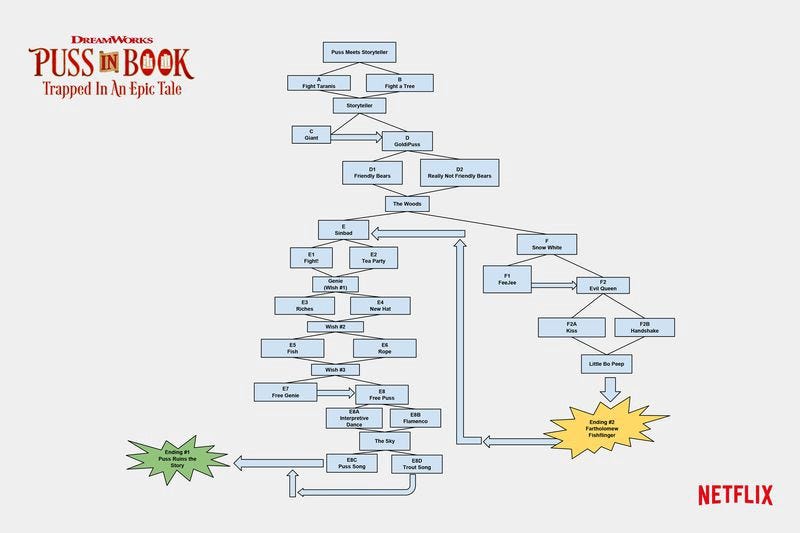 The structure for "Puss in Book", one the first two branching narratives available on Netflix. (Credits: Netflix)
The children's programming space was a natural place for us to start since kids are eager to "play" with their favorite characters and already inclined to tap, touch and swipe at screens. They also talk to their screens, as though the characters can hear them. Now, that conversation can be two-way. (Source: Netflix Media Center)
This format also gives viewers an incentive to explore the various storylines within a single piece of content, as one show can now generate several endings. Provided viewers must aim for the "right" ending, this offers new opportunities for a content creator such as Disney to gamify its video content.
Premium Video On Demand VOD
Part of Disney's future lies in Premium Video On Demand, aka PVOD, a service that would let consumers watch a movie at home only a few weeks after it debuts in theaters. The idea behind such a service is that a shorter window from theater to home video would prevent "the dark period" where most films come off screen or are shown in discount theaters.
Movie studios to date have been reluctant to enable day-and-date release. That's mainly because they would not be the ones to directly benefit from this new revenue stream, since today's economics tend to favor the player at the end of the value chain, i.e. the distributor.
By both owning the content and managing the distribution platform, Disney can simply cut the middle-man and get back the value it's been giving out to exhibitors and, more recently, to streaming platforms such as Netflix.
Still, Disney's CEO Bog Iger claims that it has no plans to use its upcoming service to experiment with day-and-date PVOD releases. If or when that happens, however, BAMTech's technology is likely to serve as the underlying infrastructure for the service, just like it will be that of its SVOD service from day 1.
Gaming
Gaming ties perfectly into Disney's IP-based business. Over the years, the company has licensed its IP to dozens of games for both consoles and PC, most of which were centered around its Mickey Mouse character.
After acquiring its parent company LucasFilm in 2012, The Walt Disney Company shut down LucasArts, a video game publisher and licensor that released dozens of games, with a majority of well-received Star Wars-themed games. But even with LucasArts gone, Disney still owns LucasFilm's never-ending trove of IPs, which it can leverage for both video gaming and Location-Based Entertainment in its parks.
Disney's gaming portfolio today also includes dozens of children and family-oriented mobile apps developed around some of the studio's most famous titles and franchises, including: Frozen, The Lion King, DuckTales, and Cars. Here, too, IP is crucial, as most of these apps are only branded versions of games that have long proven to be addictive, for example bubble shooters and puzzle games.
VR/AR
Virtual and Augmented Reality presents Disney with numerous opportunities to derive additional content from its theatrical releases and build on a specific creative universe. Disney's 2016 movie Pete's Dragon, for instance, came with a dedicated 360-degree video.
Moreover, VR/AR makes perfect sense for Disney's Location-Based Entertainment operations, a segment that's currently showing a steady growth. Revenues from the "Parks and Resorts" category in Q3 2017 increased 12% to $4.9 billion compared to Q3 2016.
It certainly isn't the first time Disney gets involved with VR. Disney's Orlando-based DisneyQuest, the "Indoor Interactive Theme Park" that ceased operations in 2016 after 18 years activity, featured Disney's first VR attraction, "Aladdin's Magic Carpet Ride".
However, Disney is now seeing VR as a long-term, strategic play. In order to bring all of these VR experiences together, it operates Disney Movies VR, an app that serves as a hub to three of Disney's creative universes. Other moves include: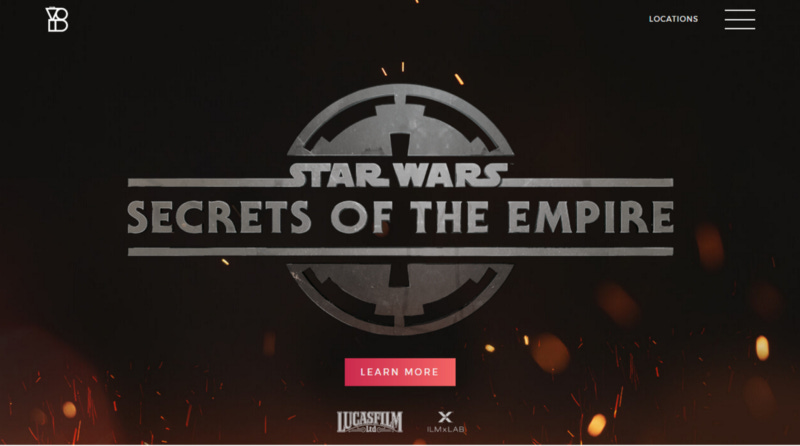 The VOID's Star Wars-branded experience is featured prominently on the company's website. (Credits: The VOID)
With so many upsell opportunities, it's hard to tell exactly which features will integrate Disney's upcoming service in the future, but the platform is likely to become a powerful entertainment hub for all of Disney's forward-looking new products.
One question remains: Is it good for consumers? Unless Disney's service can provide some level of exclusivity, a single, convenient interface for adding extra features such as edutainment, or/and combine its offline and online offers into a compelling package, — probably not.
The risk we're facing today is that other studios may want to follow the Mouse's lead and launch their own walled garden too, thus depriving third-parties from their content, and forcing consumers to subscribe to yet another service just to access content that used to be available via aggregators. Cord-cutting has been seen as a way to get rid of the ridiculous fees that come with cable, but we might be looking at a future where every powerful enough content owner goes Direct-To-Consumer simply… because it can.
At the end of the day, Disney's August announcements are not really about providing customers with a service that they'd allegedly been asking for. What they are about, however, is the group taking back control of its brands and content, and pushing the limits of its audiovisual empire far beyond its historical movie-related business.