Discover more from Recreations by Maxime Eyraud
Exploring the intersection of media, technology, and culture.
Taking GIFs, stickers and emojis to the next level
Why shorter-than-short content formats are all the rage.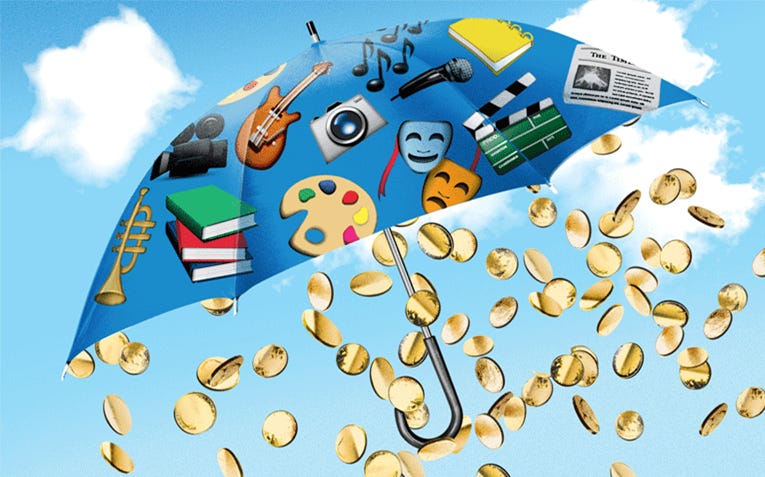 Credits: Doug Chayka
A staple of our modern communication and culture
Once marginal, GIFs, stickers and emojis have become central to the way we communicate, in both numbers and importance. The trend shows no slowing down.
Like them or hate them, GIFs, stickers and emojis are everywhere. As of October, 2016, GIPHY, the world's largest GIF library, was serving 1 billion GIFs a day to 100 million daily users spread out between its own apps and partner sites. In July 2017, the company passed 200 million daily users. Tenor, a San Francisco-based startup building a sentiment analysis platform for GIF content, claims to have over 250 million monthly users, doing over 8 billion GIF searches every month.
These numbers weren't built in one day. While a company like GIPHY has been know for launching standalone apps, GIFs proliferated mostly thanks to large-scale integrations with platforms of all sorts. GIPHY today integrates with social platforms (Facebook, Twitter), messaging platforms (Facebook's Messenger and Whatsapp, Telegram, Signal), dating services (Tinder), chat services (Twitch-acquired Curse, Discord), professional tools (Microsoft Outlook, Trello), and more. Each of these partnerships can add dozens of millions of potential viewers or/and users to a service. In July 2017 Facebook announced that an average of over 5 billion emojis are sent every day on Messenger alone.
As these formats became more largely distributed, they also grew culturally more central. In a May 2014 study, Marketwired found that 76 percent of American workers have used emojis in digital communications on their workplace. In 2015, the Oxford Dictionnary named "Face With Tears of Joy", 😂, as the word of the year. This year, someone at Sony Pictures Animation apparently thought emojis to be of enough importance that people would be willing to pay for a movie about them.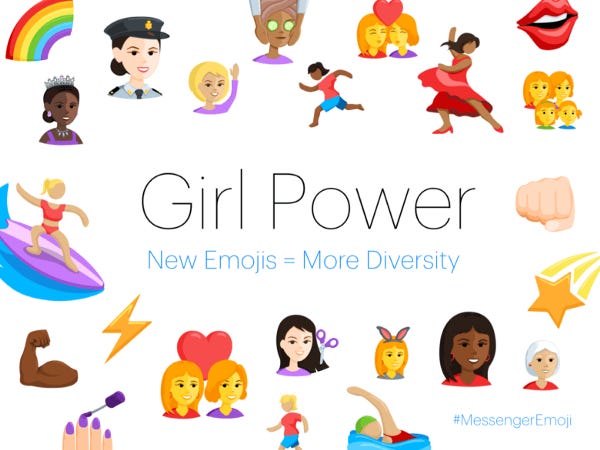 Credits: Facebook
These formats have become such integral parts of our every day culture that we expect them to adequately represent the world we live in. Creators and distributors are being held accountable for the worldview that their content conveys, and emojis and GIFs are being watched with the same scrutiny as more traditional visual formats. When it comes to cultural appropriation or white-washing, the content may have changed but any cultural misstep can have serious consequences. On the opposite, well executed moves towards more diversity are welcomed with open arms. Last April, Facebook's decision to add 125 new emojis to include red-haired, black, single-parent and same-sex families received much acclaim. Now Google is being nominated for a Beazley "Design of the year" award for a set of Professional Women emojis it released in May last year.
Untapped monetization opportunities
For all its ubiquity, this form of content remains largely unleveraged in terms of monetization. With massive reach and a proven appeal to users, it offers many more opportunities than just one-off purchases.
The pack model
With the growing support of app stores and major messaging platforms, both stickers and emojis have already brought considerable revenue to creators.
Line, a Japanese mobile messaging company that went public in July last year, made $271 million in revenue from stickers in 2015, up 38 percent from 2014. That same year, the top 10 sticker creators brought home an average of over $900,000. Who would have thought such small bits of visual content could generate so much 💰?
No wonder other creators want in on the opportunity. A and B-level celebrities can make a quick buck by licensing their names and faces to the emojis gods. Ellen Degeneres (with her Ellen Emoji Exploji app), Charlie Sheen (Sheenoji), Ariana Grande (Ari), Wiz Khalifa (Wizmoji), Steph Curry (StephMoji) and Kim Kardashian (Kimoji) were among the many stars to profit from this model in recent years. Additional — and seemingly never-ending — revenue channels can come in the form of merchandising: The lucky customers of Kim Kardashian's Kimoji.com store can choose between a🍑-shaped USB key, a Cryface backpack, and other essentials.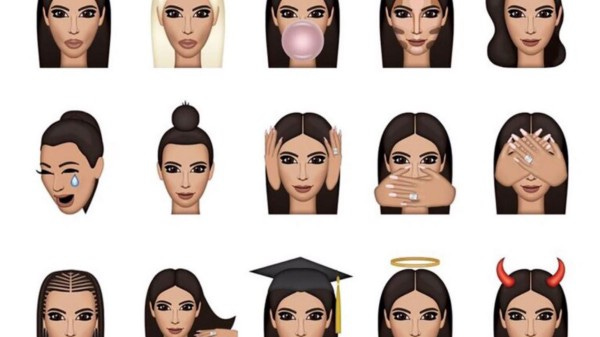 Who knew Kim Kardashian had so many sides to her? (Credits: Kimoji)
But all these initiatives were still only one-off operations. Once the initial excitement is gone, will customers move to yet another pack of stickers and emojis, simply to add a few new faces to their collection?
MojiLaLa, an early-stage startup backed by betaworks, is trying to solve exactly that problem, by tackling the current discoverability issue that comes with today's owerwhelming offer of emojis and sticker-related content. MojiLaLa Unlimited, its monthly subscription service, is "an emoji marketplace for independent artists and studios from around the world" that lets users access 25,000+ emojis and stickers and use them on messaging platforms. MojiLaLa registers art and packs on the App Store on behalf of creators for a one-time fee, and then shares revenue on a 50/50 basis. It's a smart way to disrupt an industry that, until now, has relied solely on one-time purchases will little to no adherence.
GIFs are the next cash cow
When compared to stickers and emojis, GIFs have some serious catching-up to do. On the one hand, creating and delivering GIFs is a done deal, and has been for some time now. There are plenty of apps and online tools for people to source GIFs or create their own on the fly. Furthermore, search bars and integrated keyboards on mobile have made it easy for anyone to enrich or replace textual content with GIFS. On the other hand, GIFs seem to lack in profitability what they have in userfriendliness. It's as if the format had been there for too long already — GIFs turned 30 in July this year — and was unable to find its way towards monetization.
Still, some ongoing experimentation is showing promise. In March 2016, GIPHY launched GIPHY Studios, a new initiative focused on creating original animated content. According to GIPHY founder Alex Chung, it's set to focus on "high quality, high-end content", with both original content and "branded agency work" for partners that include massive brands such as Nike and McDonald's.
One compelling GIF can make you want to see more. (Source: GIPHY Studios)
While original content might seem like a challenge, there is no reason why GIFs could not be quality, even artistic content and find a sweet spot in today's general trend towards mobile-first, short-form content. Considering a dancing banana is one of the most shared GIFs of all time, there's probably room for more elaborate storytelling to leverage the format too. This could lead to serialized content where every GIF plays a distinct part within the main storyline, yet can be enjoyed and shared as a self-sufficient piece. The GIPHY Studios are notably based in Los Angeles, the epicenter of the entertainment industry that can bring these ideas to life.
Branded content, on the other hand, needs no explanation. As GIPHY's Head of Business Development David Rosenberg points out, GIFs are historically tied to branded content, since a lot of them derive from video ads. Now that brands understand the format and its broad cultural appeal, massive opportunities lie in applying existing advertising technologies to it.
Besides sharing their content via their various social media accounts like they do today, brands can pay to have their name and content tied to specific keywords. Similar to Google's Adwords product, such a feature can showcase branded GIFs at the top of search results alongside organic results based on a text input, generating large-scale visibility for a show, event or marketing operation. Brands can already bid programmaticaly for a range of terms that they want to be associated with — imagine typing "chill" and seeing a Netflix-sponsored GIF pop up on your screen.
The promise of analytics
Because each GIF, sticker or emoji has a meaning, and, most importantly, keywords attached to it, these formats present brands and agencies with invaluable insights into the sorts of content people are consuming — and their emotional reaction to it.
Facebook has been increasingly leveraging the power of emojis to refine its platform and the content it shows us, first in February 2016 by introducing emoji "Reactions" to posts on the News Feed, and later in May 2017 when it made the feature available for comments too. Compared to today's range of reactions, from approval to laughter, to sadness or anger, the time when we could only "Like" or "not Like" a post or comment seem pretty univocal.
Give Facebook 150 of these and it will creep you out with accuracy. (Credits: Facebook)
Emojis have heightened the granularity of our reactions to both textual and visual content, and enabled Facebook and its partners to further refine, and monetize through ads, their understanding of users on the platform. A study released in January 2015 by researchers from the University of Cambridge and Stanford University showed that just 150 "Likes" were enough for Facebook to know you better than your friends and family. Imagine what it can do with 150 of your "Reactions".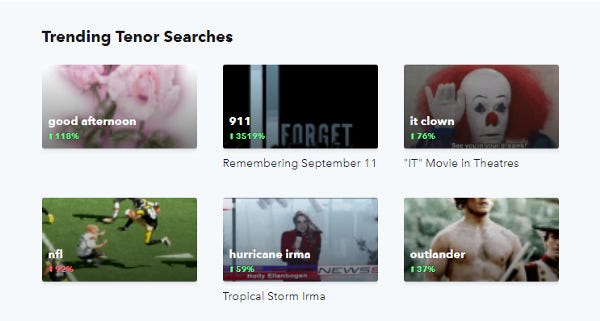 Trending GIFs on Tenor's Insights tool, as of Monday September 11, 2017 (Credits: Tenor)
GIFs can be used in the same fashion. From Game of Thrones' latest episode to a CNN segment or a tension-filled football game during the Super Bowl, they serve as an indicator to what's hot, in which part of the world. GIPHY aptly describes its Trending library as "a real-time GIF repository of up-to-the-minute memes, tropes, and touchstones of pop culture", while Tenor's Emotional Graph maps "the thoughts and feelings people want to communicate". Content owners and broadcasters looking to measure the cultural and emotional pulse of their audience would be well advised to move beyond text analysis and deep further into this trove of content.
Augmented reality will take existing 2D formats to the next level
GIFs, stickers and emojis today represent a wealth of fun, ready-to-use, and already omnipresent form of visual content that can serve as the underlying media for augmented reality.
Technology companies understand perfectly the potential of these formats for the next wave of immersive experiences. Apple's Millennial-focused ad for the iPhone 7 relied solely on the real-life use of stickers, a feature that makes perfect sense considering the company today distributes sticker packs via its iMessage platform. The company took an extra step in terms of interactivity with its latest announcements on September 12, 2017, revealing that the iPhone X's upcoming animoji feature will let users create animated versions of well-known emojis based on visual and audio capture. No doubt that these assets will come in handy when used with Apple's ARkit platform for augmented reality.
Startups of all stages are determined to seize the opportunity, too. On September 14, 2017 Snap added a new feature to its AR-enabled World Lenses that lets users drop an animated 3D version of their personal Bitmoji into their surroundings. This new 3D capability draws from Snap's previous uses of 2D Bitmoji through Friendmoji and Bitmoji Geofilters. With it, Snap is building a (virtual) bridge between a format that users have grown already accustomed to — and found of — , and a richer, more interactive format.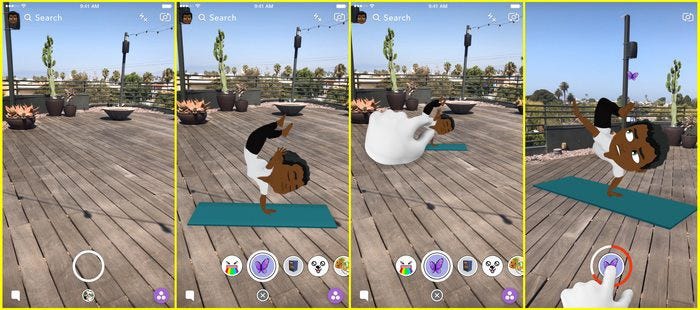 Bitmojis have come a long way. (Credits: Snap, Inc.)
The list of these initiatives goes on, as mobile AR is quickly taking off. On September 7, 2017, Tenor announced the release of a Software Development Kit (SDK) that AR developers can leverage to easily source content from Tenor's library of GIFs. GIPHY has been working on similar capabilities as one of Apple's launch partners for iOS 11's first wave of augmented reality apps. GIPHY World, which is powered by Apple's ARkit, enables you to mark you environment with fun or informational content floating around and share it on social or with a specific group of people.
Earlier in August, a company named Mirage Worlds also launched an augmented reality app for iOS that lets users stick GIFs and 3D versions of emojis onto the real world. The content generated is persistent and tied to a specific location, meaning that it can be unlocked and consumed by others as they approach it. This is a stepping stone for shared, social AR content, as it can leverage a huge installed base of smartphones to overlay virtual information onto real life. It's worth noting that Mirage Worlds' two cofounders both used to work as UI designers at Apple.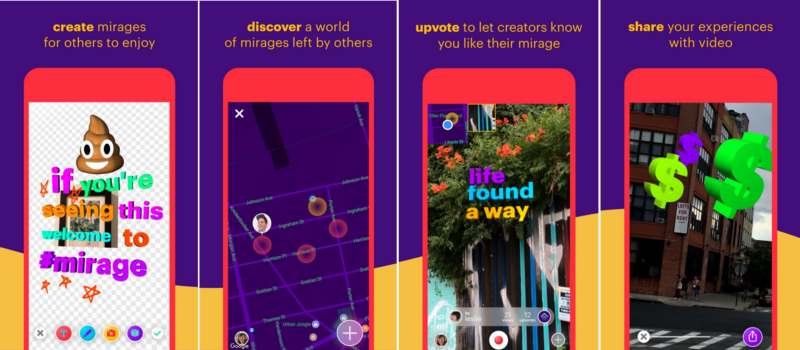 Credits: Mirage Worlds, Inc.
These various initiatives are pointing towards a future where potentially every square meter of our real world doubles as a virtual inventory for showcasing visual content. This offers a larger-than-life new venue for creators and brands to distribute the fun, shareable 2D content they've created along the years. From Apple's animojis to Snap's 3D bitmojis, we can already see how existing formats could be enriched and adapted to their new 3D environment.
Here, too, analytics become crucial. With improved traceability, creators could get paid based on the way users interact with their content, whether it be by placing it into their own creations, or just viewing it. And here, too, we are likely to see new forms of branded content pop up in sometimes unconvenient places because advertisers have deemed a certain visual spot to be sticky enough for be worthy of their bids for our attention.
GIFs, stickers and emojis have proven wrong those who were quick to dismiss them for lacking depth or even hurting communication or meaning. From the old days when the Dancing Banana GIF was placed in online forum signatures to today's omnipresence of emojis on every social platform, these formats have come a long way. Particularly striking is the fact that adoption first came from users like you and me; now, brands are the ones playing catch-up to adapt to the new ways their customers communicate their ideas and feelings.
For all their promises, the new large-scale 3D environments we're seing with augmented reality raise new questions. It's true that existing 2D content offers a wealth of assets to choose from, and emojis, for instance, seem like a perfect fit for adding some layer of fun onto our virtual lives. But the whole point of augmented reality is that it enables us to navigate our surroundings and view things from a different angle. That's where 2D stops being enough.
Making GIFs, stickers and emojis relevant in the upcoming 3D era will take more than just pulling them from existing web libraries. Technologies like those applied by Apple and Snapchat will have to be more largely implemented if these formats are to be more than fun-looking 2D pop-ups in our sights.