Discover more from Recreations by Maxime Eyraud
Exploring the intersection of media, technology, and culture.
Why Hasbro acquiring eOne is a big deal
A toymaker is turning into a vertically integrated consumer product & media conglomerate.
Credits: Hasbro, IDW.
This article is derived from a thread I did on Twitter.
Hasbro last month acquired eOne for a hefty price of $4 billion.
The deal gave Hasbro, the third largest toymaker in the world in terms of stock market value, and third largest in terms of revenue, control over the whole eOne portfolio of businesses in Films, Television, Music, Distribution, and Family & Brands.
This made Hasbro, which presents itself as "a global play and entertainment company," a vertically integrated consumer product and media conglomerate, an enviable position to be in at a time when IP is being used as the foundation for powerful ecosystems.
With new kids properties, eOne's licensing expertise, and plans for further diversification, the move points to Hasbro's determination to put its storytelling capabilities to good use.
Prized IP
The crown jewel here is eOne Family & Brands, which develops, produces, and sells kids & family programs. The entity also manages licensing & consumer products, a key business for any kids-focused IP owner.
And one that's especially crucial for eOne: with both Peppa Pig and PJ Masks, eOne's roster holds some of the world's most powerful kids properties. If finding and developing a hit show is rare enough, having two is nothing short of remarkable. This makes eOne's existing catalogue all the more valuable, as consumer interest translates into tangible numbers. Revenue for Peppa Pig was up 20 percent in 2019; PJ Masks was up 39 percent. Meanwhile in retail, Peppa Pig's sales grew 6 percent to $2.5 billion, while PJ Masks grew 10 percent.
Thanks to growing demand for kids content globally, those shows have travelled well and far. Peppa Pig, which first aired in 2004, was an instant hit when it landed in China in 2015. In January this year, eOne's promotional video for the property's upcoming feature film took China by storm - Variety deemed it "perhaps one of the most successful examples of the localization of foreign content in China in recent memory." In its press release for the acquisition, Hasbro aptly called Peppa Pig an "evergreen property."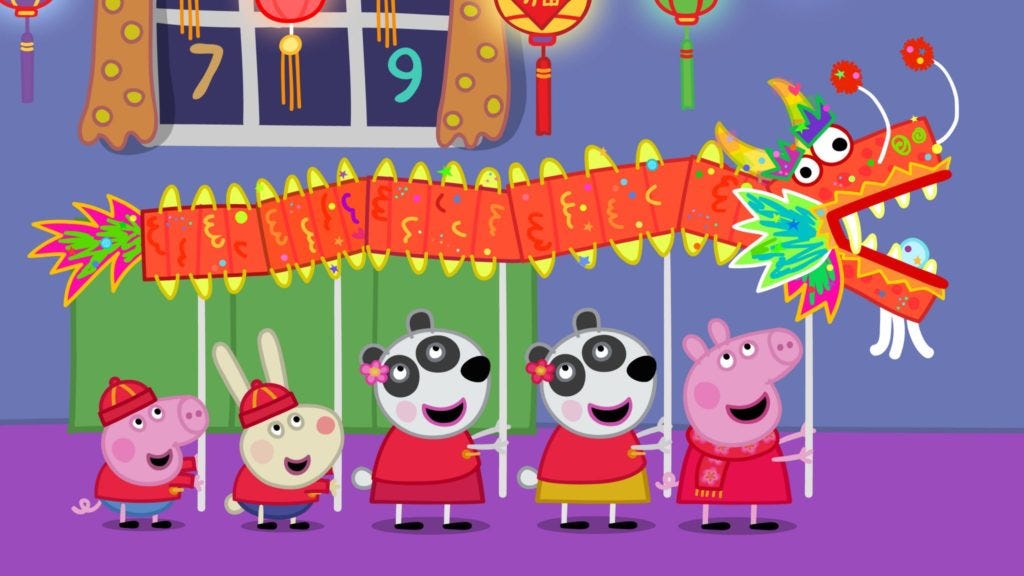 Peppa Pig's "local flavour" didn't aim for subtlety in China. (Credits: eOne)
eOne's Family & Brands operations have seen continued growth over the last few years. This comes in part from having licensing & consumer products operations in-house, a model that enables eOne to integrate its marketing needs with its content early on, rather than having to make room for merchandising around constrained storylines. Making IP more consistent across content and physical products leads to better merch, and better sales.
Setting a clear vision for merchandising is all the more important when revenues from consumer products far exceed those from the content itself: in 2019, Licensing & Merchandising was the first contributor to the overall Family & Brand revenue, generating 89.4 million pounds - almost three times as much as the Broadcast & Licensing category (at £30.5 million). No wonder Hasbro plans to move a significant portion of eOne's toy business in-house.
A world of opportunities
No matter how big their contribution might be, toys, are only one side of the licensing business. With strong IP, come big opportunities, and eOne has been quick to realize the full potential of its properties in the growing realm of location-based entertainment.
The company partnered with Merlin Entertainment, a global leader in location-based entertainment, to open "Peppa Pig World of Play" centers, an indoor family play format. Three location are already open in China and the U.S, and more have been secured, in Beijing and New York.
The "experiential entertainment industry", eOne noted in its full year results, is becoming "an increasingly important driver" to the Family & Brands activities. Those deals can indeed generate substantial revenue, as they typically involve both a licensing fee (paid upfront as a Minimum Guarantee) and a share of revenues (based on the sales of tickets and merch). With Peppa Pig's global appeal, the 'World of Play' centers are likely to bring in enviable revenues. The opportunity hasn't gone unnoticed: besides Disney's long-standing presence, new players, including Nickelodeon and Cartoon Network, have similar projects.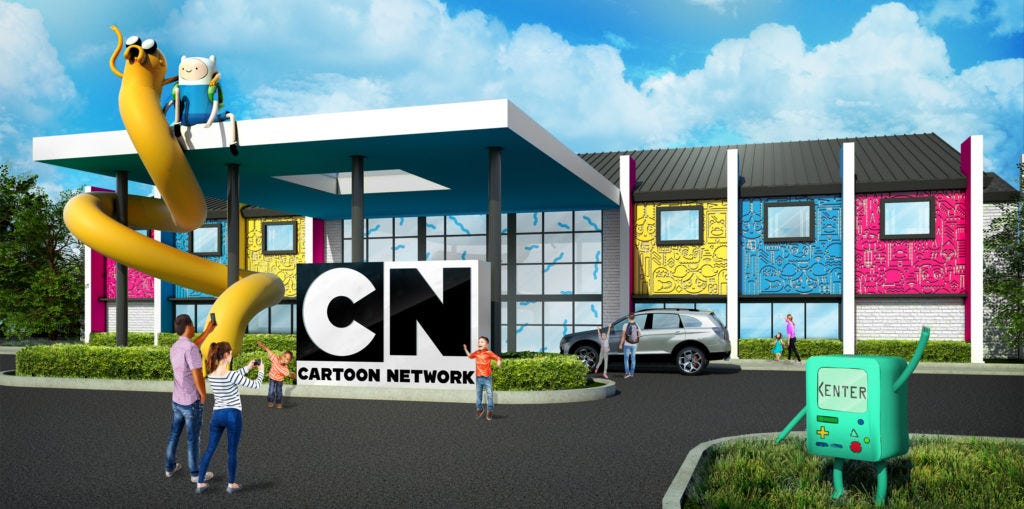 An artist's view of Cartoon Network's upcoming "resort." (Credits: Cartoon Network)
What makes location-based entertainment so appealing is that it greatly benefits from, and contributes to, a virtuous circle. Content owners typically synch their consumer product launches with the release of their films or shows, so that they can turn consumer interest into real sales in retail. In the same way, the influx of new content can, in turn, drive park attendance, as young viewers seize the opportunity to get closer to their favorite characters. Disney, of course, figured this out long ago. As eOne expects that "new content deliveries will help augment [Licensing & Merchandising] initiatives," its location-based business is bound to profit, too.
Those activities will complement Hasbro's presence in the space. In 2018, the company signed a number of licensing agreements for hospitality deals based on its portfolio of brands. Projects to date include a Monopoly Mansion hotel, NERF Action Xperience centers, and theme parks. As this side of the business continues to grow, Hasbro may one day get more serious about the opportunity, and choose to operate those locations on its own.
Hasbro's content ambitions
The eOne deal speaks to the increasing convergence of content and consumer products in the kids & family space.
Every toymaker's dream is to have seamless marketing tie-ins with content: storytelling adds meaning, builds loyalty, and turns viewers into consumers. Give a toy a story, and it becomes a character, now worthy of admiration and love.
That's a good thing for those that can add that layer of meaning to their products. But it's bad news for those that can't. In fact, toymakers' growing reliance on content is threatening their business as a whole. In its 2018 annual report, Hasbro mentions "Engaging storytelling across media" as an "increasingly important factor for driving brand awareness and successfully building brands."
Entertainment media, in forms such as television, motion pictures, digital content and other media, have become increasingly important platforms for consumers to experience our brands and our partners' brands and the success, or lack of success, of such media efforts can significantly impact the demand for our products and our financial performance. We spend considerable resources in designing and developing products in conjunction with planned media releases, both by our partners and our own media releases.
With eOne's expertise in content development and production, and global presence, Hasbro has the capacity for worldbuilding at scale.
The company isn't new to those ambitions. It's been betting on content for a long time, and its involvement has only grown stronger over the years as it aims to gain more control over its IP - and the value it generates.
In 2009, Hasbro figured it could capture a greater share of the upside, and moved to producing its own content in-house through Hasbro Studios, to focus on TV development, production, and distribution. In March 2019, the entity was renamed Allspark Studios, after the prized artifact of Hasbro's Transformers franchise.
The Hasbro Studios era was met with various levels of success, and a few contradictory announcements. In 2008, Hasbro partnered with Universal Studios to produce at least four films derived from seven of Hasbro's library of games and toys. Of those projects, only two, Ouija and Battleship, saw completion - and Battleship underperformed at the box office. The deal fizzled, and Universal ended up paying Hasbro a penalty of $5 million for each of the properties it did not turn into movies. After the Universal debacle, Hasbro's Monopoly brand was the subject of multiple deals, first with Emmet/Furla Films, then with Lionsgate. In January 2019, it was announced that the rights to a Monopoly-based movie had gone to yet another partner.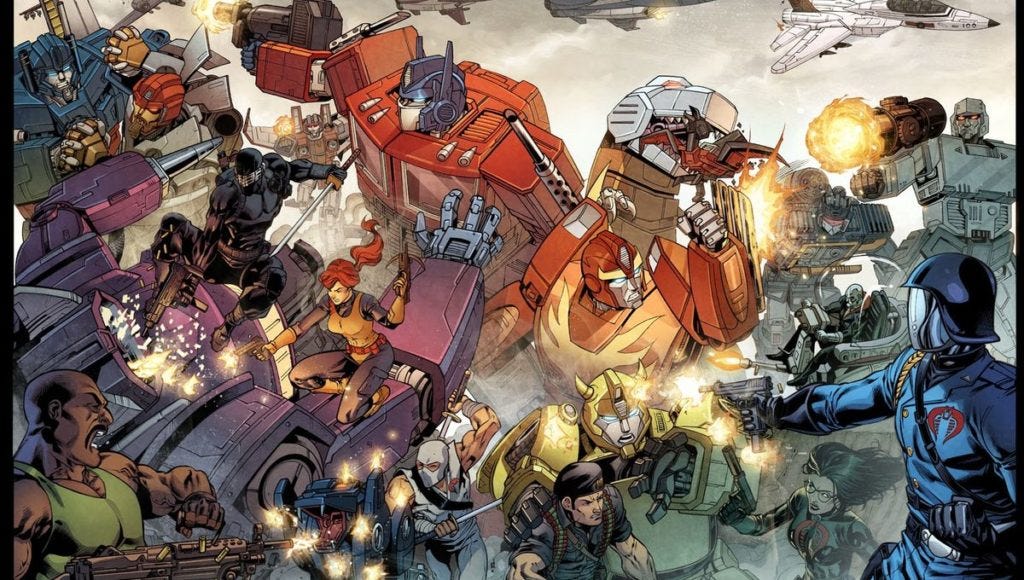 A view of Hasbro's Cinematic Universe. (Credits: Hasbro, IDW)
More instrumental to Hasbro's content revival has been its collaboration with Paramount around Transformers - as of September 2019, the franchise has brought in over $4.8 billion dollar in theaters globally. In 2015, the two companies partnered to co-develop and co-produce live-action and animated movies based on five of Hasbro's properties, in what aimed to establish a single cinematic universe. The partnership was extended for the next five years in 2017, with plans to produce for TV, too.
The planned cinematic universe has only gotten smaller, with several properties already slashed from the line-up. But the partnership is ongoing: several films have been announced for properties such as G.I. Joe, Micronauts, and Dungeons & Dragons.
Far from invalidating Hasbro's existing content initiatives, the eOne deal only reinforces them. eOne's development and production capacities, Hasbro says, will be leveraged to "develop non-priority productions outside of Hasbro's long-term Paramount deal." It also concludes year-long efforts to join forces with a major entertainment player: Hasbro previously tried to merge with DreamWorks Animation in 2014, and came close to acquiring Lionsgate in 2017. Both deals fell through over pricing.
When content is child's play
Hasbro isn't the only toymaker involved in content. Like Hasbro with Allspark, Mattel in 2013 committed to bringing those activities in-house, through the creation of Mattel Playground Productions - now known as Mattel Films and Mattel Television.
In 2015, the toymaker partnered with Toronto-based studio DHX to co-develop and co-produce content based on Mattel IP, with DHX managing distribution. The deal, the two companies said, would entail "new episodic, short-form, and long-form content for the Mattel properties, designed for a variety of traditional and digital platforms." Mattel's IP, which includes brands such as Polly Pocket, Fireman Sam, and Bob the Builder, has proven successful: DHX and Mattel's Polly Pocket series was picked up by 16 broadcasters internationally in October last year.
This has given Mattel new ambitions. The company launched a slate of 22 animated and live-action multi-platform shows in February.
It's also doubling down on digital. Having a portfolio of companies means Mattel can experiment in terms of formats and content. Fisher-Price's YouTube channel, for instance, features both live-action and animated shows for kids of all ages. Several of Fisher-Price's line of toys also have their own animated video series. "Laugh & Learn," aimed at preschoolers, was turned into a series of educational videos and nursery rhymes. It has generated over 2.8 billion views to date.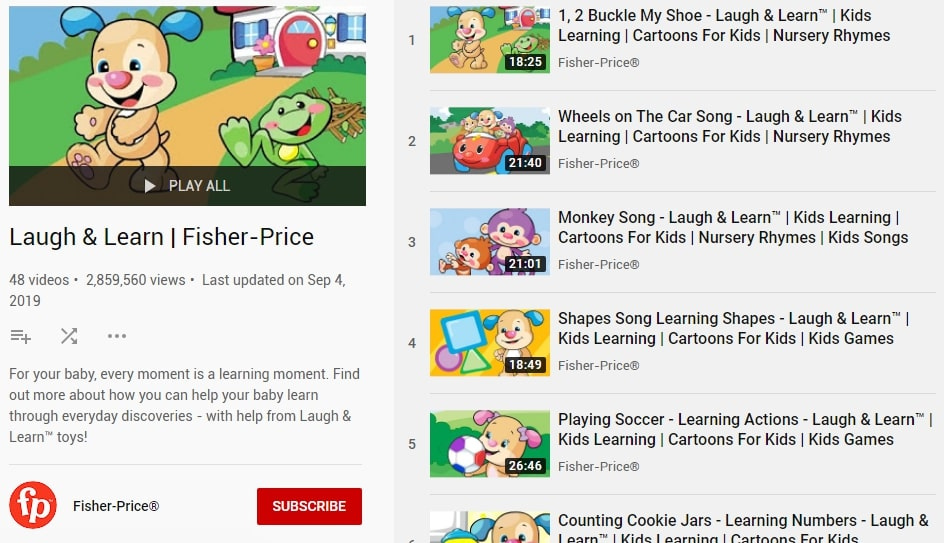 Fisher-Price's video series "Laugh & Learn" has garnered 2.8 billion view to date on YouTube. (Credits: Fisher-Price)
Also joining Hasbro and Mattel in the content race is Spin Master, which in 2015 acquired two game studios, Toca Boca and Sago Mini. The move proved to be prescient: gaming as a category was starting to take off at the time, and Toca Boca's apps already had a strong following among a fast-growing crowd of digital-leaning parents.
The difference is, Spin Master didn't buy those studios for them to create apps based on its IP. Toca Boca and Sago Mini today still focus on open-play, educational apps, with a fairly distinct look-and-feel - not really Spin Master's specialty.
It wasn't a matter of synergies. Rather, those acquisitions were Spin Master investing in what it saw as the future of play: digital, interactive, personalized.
Today, both Toca Boca and Sago Mini are powerful players in the kids app ecosystem. They have dozens of apps each, with a sound mix of premium, subscription, and in-app purchase monetization models. They've created their own characters and worlds, and still operate independently - their respective websites don't even mention their ties with Spin Master. With their growing portfolio of apps, and now ambitions in merchandising, too, they provide Spin Master with an additional stream of revenues and a digital footprint that the group otherwise would be missing.
Looking for synergies
Hasbro's move is a mix between the two approaches.
Like Mattel, it will continue to co-produce video content alongside an established distribution partner, leveraging eOne's capacities to double down on its pipeline and work on new projects. At the same time, like Spin Master, it's betting on format diversification and technology.
In its press release of August 22, 2019, Hasbro said it plans to "leverage Entertainment One's immersive entertainment capabilities to bring [Hasbro's] portfolio of brands that have appeal to gamers, fans and families to all screens globally." The eOne acquisition, the company added, will help Hasbro "bring to markets its IP in increasingly attractive new formats, including over-the-top (OTT) and premium platforms, music, location-based entertainment, AR and VR."
That Hasbro would target "all screens" should come as no surprise. While Hasbro's most visible involvement may have been in film with the Transformers saga, the company has also been actively producing TV content, with a focus on animation series. Finding success in the theaters has massive upside in terms of merchandising and toy sales, but failure can be costly. By contrast, TV series that manage to find their audience have a shot at a longer shelf life, enabling Hasbro to monetize fandom on the long run through a series of reboots and spin-offs. Given that eOne's expertise is in TV - if only because its kids brands depend on it - Hasbro's interest in the medium is likely to remain.
The movie business is increasingly important to the toy and game business and to global consumer products overall. The movies create incredible events to help elevate the interest in those brands globally. Television and streamed content help the fans learn about new stories over time. We're looking at an all-screens strategy because each element of that content deployment does different things for the audience.

Brian Goldner, CEO, Hasbro
The acquisition also comes at a time when the toymaker is looking at new channels for the future of its brands. Particularly striking in that regard was Hasbro's move for its famed collectible card game, Magic: The Gathering. In September 2018, the game was given a digital counterpart, Magic: The Gathering Arena, a free-to-play game that the company now hopes will reach esports status. In June 2019, Hasbro announced that it is partnering with Netflix to bring the franchise to the screen in an animated series.
Hasbro's increasing format diversification reflects the company's "Brand Blueprint," which features "Immersive Entertainment Experiences" and "Digital Gaming" as prominent growth factors. Like every IP owner out there, Hasbro is intent on creating an entire ecosystem around its portfolio of brands - something not so far off eOne's own vision.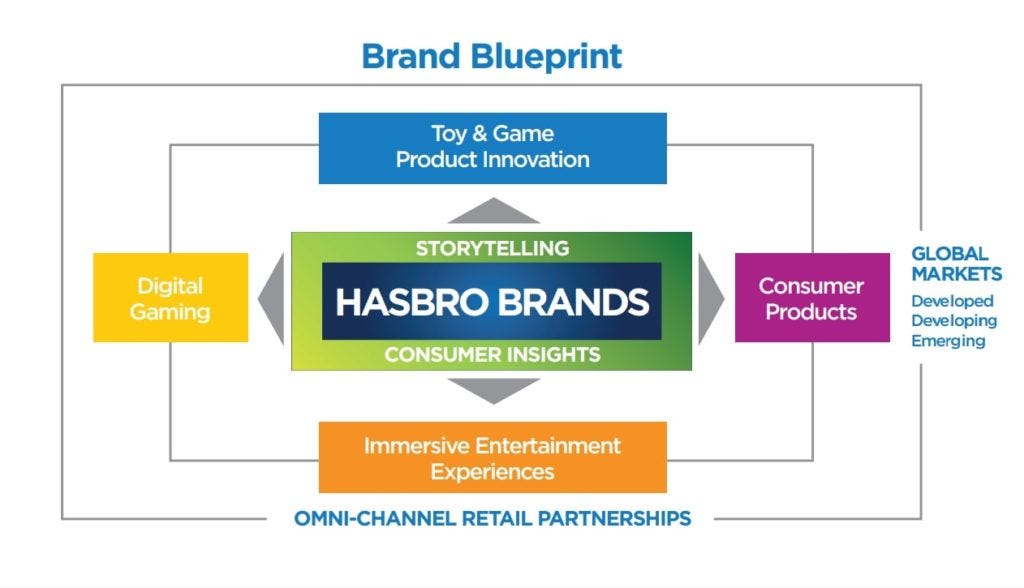 Hasbro's Brand blueprint is an attempt at ecosystem-building. (Credits: Hasbro)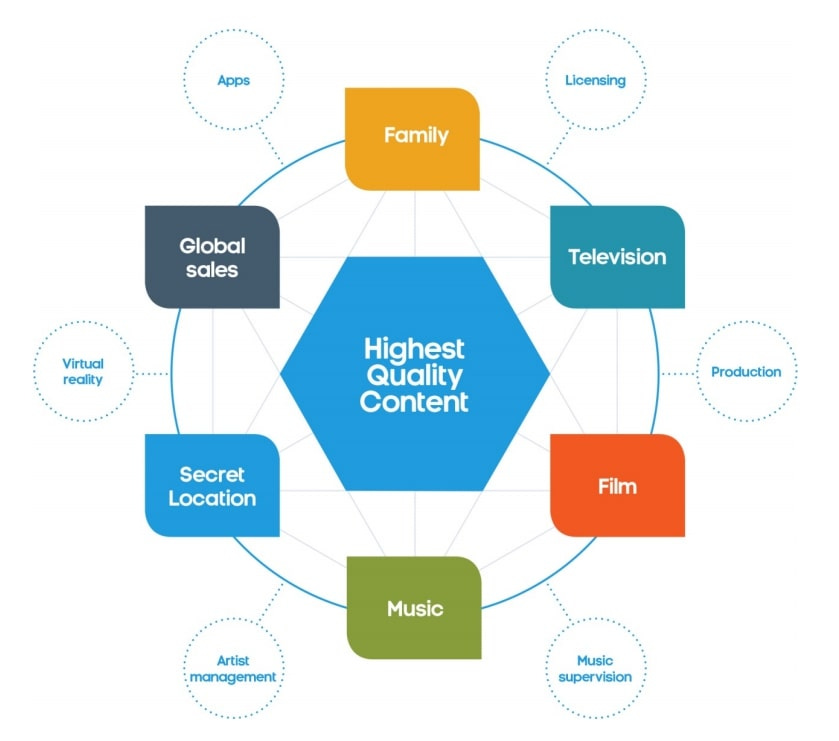 eOne's blueprint envisions a world of possibilities for its content. (Credits: eOne)
To make this blueprint a reality, Hasbro is now likely to rely on eOne's existing portfolio of companies. While eOne began as a retail music distributor, a series of acquisitions has long turned it into an all-stack entertainment group. Today, eOne's secondary activities includes a mix of music labels and publishers, virtual reality studios, live entertainment production companies, and more.
A few of those companies could prove especially useful.
Among them are Whizz Track and Round Room, two companies that specialize in live entertainment, a promising business for kids IP. Round Room notably operates "PJ Masks LIVE," a live musical show based on eOne's hit property. And eOne has big plans for the format: among the "Key drivers" for the Family & Brands entity in the company's 2019 financial results was "Further diversification of revenue streams, e.g. live shows managed through an in-house team."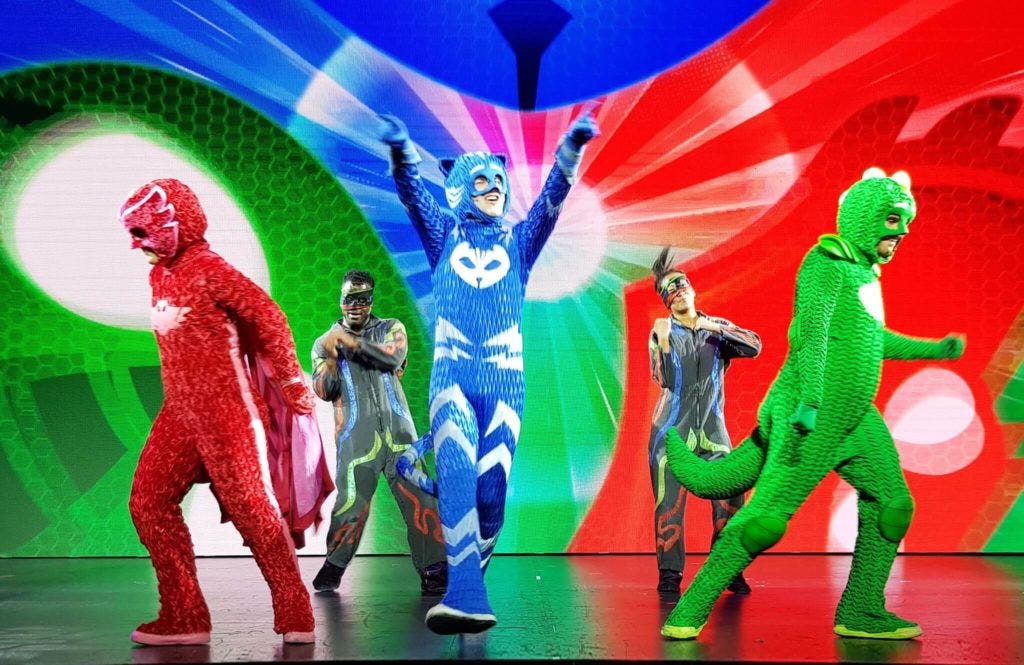 eOne has big plans for what it calls "experiential entertainment." (Credits: eOne)
Another asset could be Secret location, a studio that develops premium virtual and augmented reality experiences. One probably shouldn't make too much of Hasbro's plans in virtual reality: VR comes with challenges in terms of both content and hardware, and that's especially true when it comes to kids. Secret Location may prove valuable nonetheless: the company is developing software tools that are used by location-based entertainment operators - a solution that might be leveraged in a more immediate future.
Building a new kind of media conglomerate
Hasbro's acquisition of eOne might be an early signal of a new wave of media consolidation.
The first wave saw media companies combine their forces to form all-encompassing empires: Disney acquired ABC; Viacom bought MTV Networks and Paramount Communications, and merged with CBS. The second wave saw telecom and broadband companies try to leverage content to their advantage and grow their reach: Comcast acquired NBC Universal and Sky, and AT&T acquired DirecTV and Time Warner. Now, the third wave could be that of consumer product and gaming companies looking to grow their storytelling abilities to build content ecosystems around their otherwise static IP.
Video game companies have long been described as potential acquisition targets for media conglomerates. Buying a gaming company, the thinking goes, would allow a movie studio to address new and younger demographics in a promising - perhaps the most promising - medium, all the while bringing under its umbrella new expertise and talent.
But the opposite makes sense, too. Market caps aside, there is a huge opportunity for a thriving gaming studio to reach the mainstream through more traditional storytelling. And that is certainly true of toy companies as well, as consumer demand pushes them to build content ecosystems around their brands.
This could prove mutually beneficial. On the one hand, entertainment craves pre-sold brands. At a time when only blockbuster franchises seem to make it at the box office, movie studios are dying to put their hands on established IP that can help them mitigate their risks in the theaters. With dozens of brands loved by kids the world over, that's exactly what toy companies are bringing to the table. On the other hand, toymakers' success and financial performance is increasingly dependent on their ability to generate long-term engagement for their brands. For them, producing branded media is now a must-have, not a nice-to-have.
In this context, Hasbro's acquisition of eOne mostly reads as a push toward increase self-reliance in both its content and its toy businesses.
Hasbro is known for board games such as Monopoly and Battlefield and card games such as Magic, but a large part of its activities includes working with other IP owners to develop and launch dedicated consumer product around their content. A long-time partner of Disney, it currently has licensing agreements for both the Star Wars franchise and the Disney Princess line. It also recently became Blizzard Entertainment's Master Toy Licensee for the Overwatch license, and partnered with Epic Games to launch Fortnite toys and games.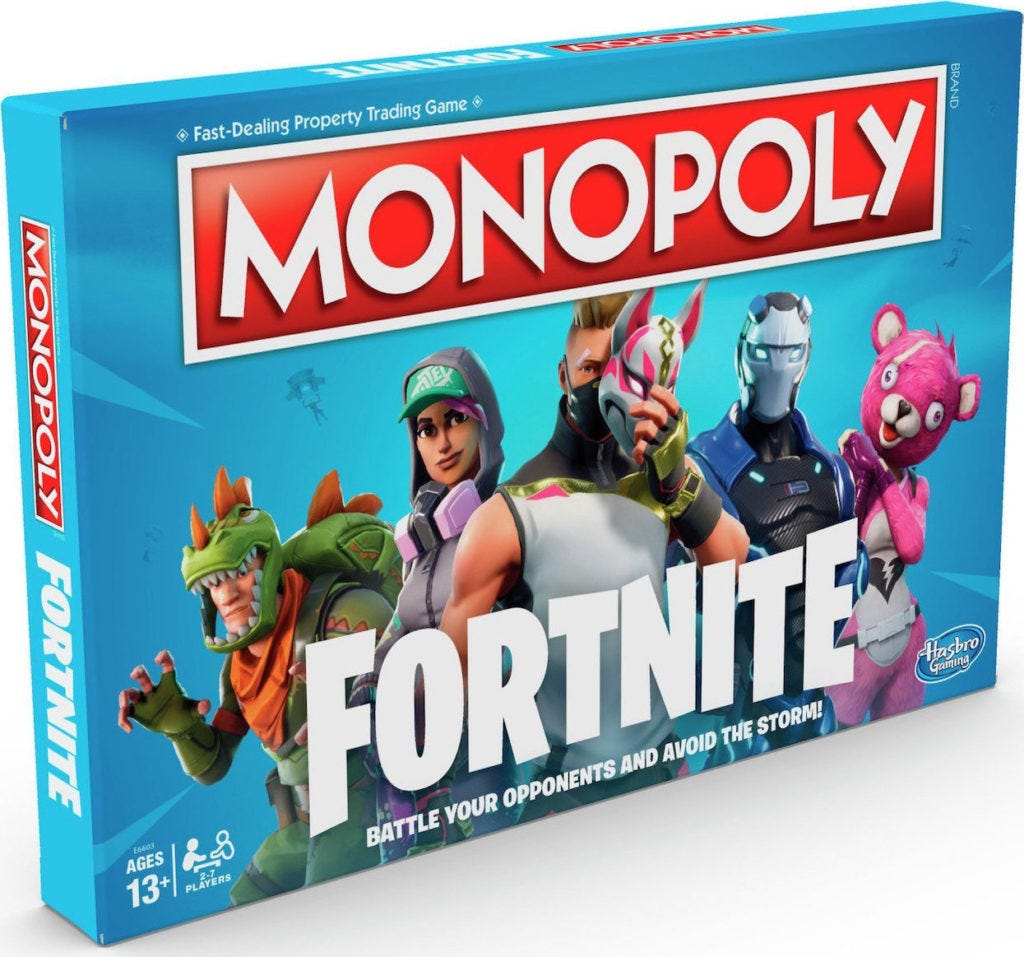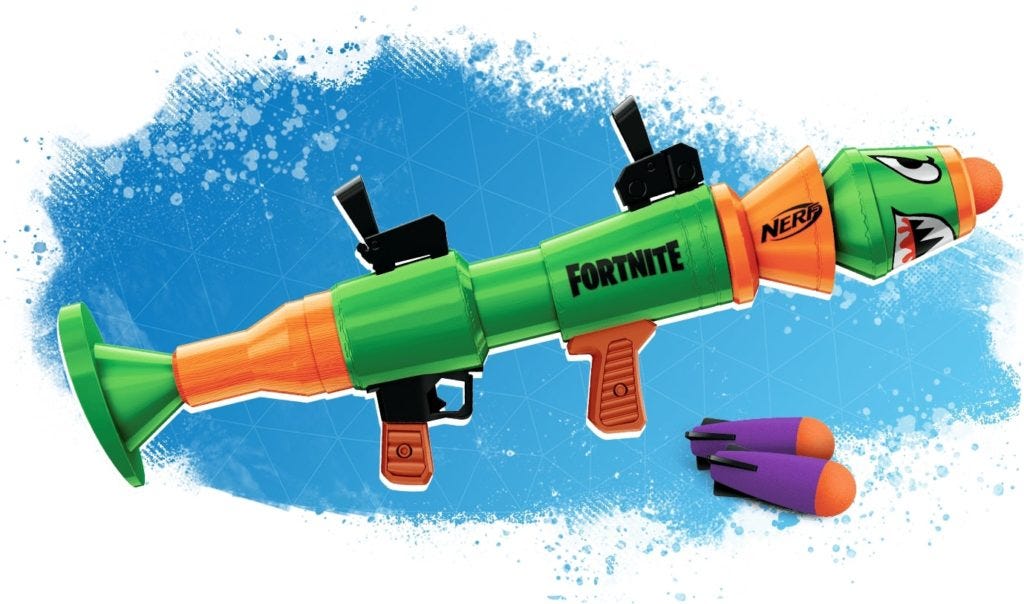 Relying on external partners, no matter how powerful their IP, has its drawbacks. When a certain movie or show fails to lure viewers, the derived toys and games are far less likely to sell - it's hard to sell a toy based on a character that nobody knows anything about. And experience has shown that even all-powerful licenses such as Star Wars can fail because of a weaker installment. Therefore, Hasbro's success in retail is tied to external factors, including its partners' commitment and marketing budget, the timing between a movie's release date and the launch of a product line, and the overall appeal of the entertainment goods that Hasbro's products are derived from.
This lack of control is structural to Hasbro's business. In its 2018 financial report, the company mentions it among other "Risk factors" - and understandably so. Disney's Aladdin, Frozen II, and Star Wars: Episode IX, Hasbro notes, are all being developed and released by its partners, who "control the content and schedule for such motion pictures." The same goes with "other key partner product lines" such as Beyblade and Yokai-Watch, which "depend on television support by [Hasbro's] partners for their successes."
Of course, not everything is bad in those partnerships. A deal for any of Disney's licenses is likely to be very lucrative - Mattel put the size of its Disney Princess doll business at $300 million in 2014. There is a reason toymakers still compete for a chance to partner with external content owners. But those deals also come at a price. Disney reportedly charges Hasbro 20% to 25% royalty rates to license its Star Wars and Marvel properties. Hasbro's royalty payments accounted for 8% of its revenue in the first quarter of 2019.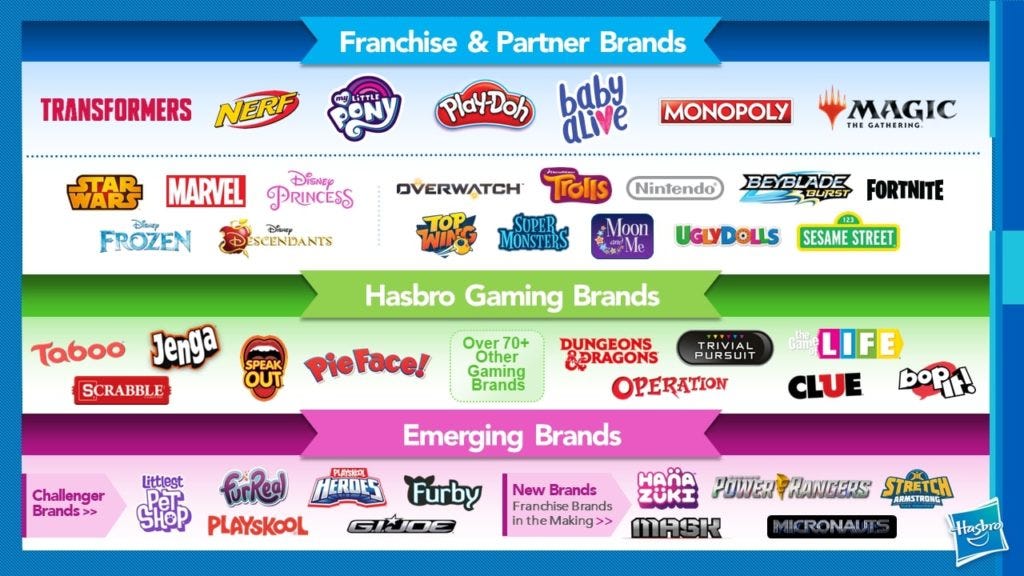 Hasbro's "Brand Architecture." (Credits: Hasbro)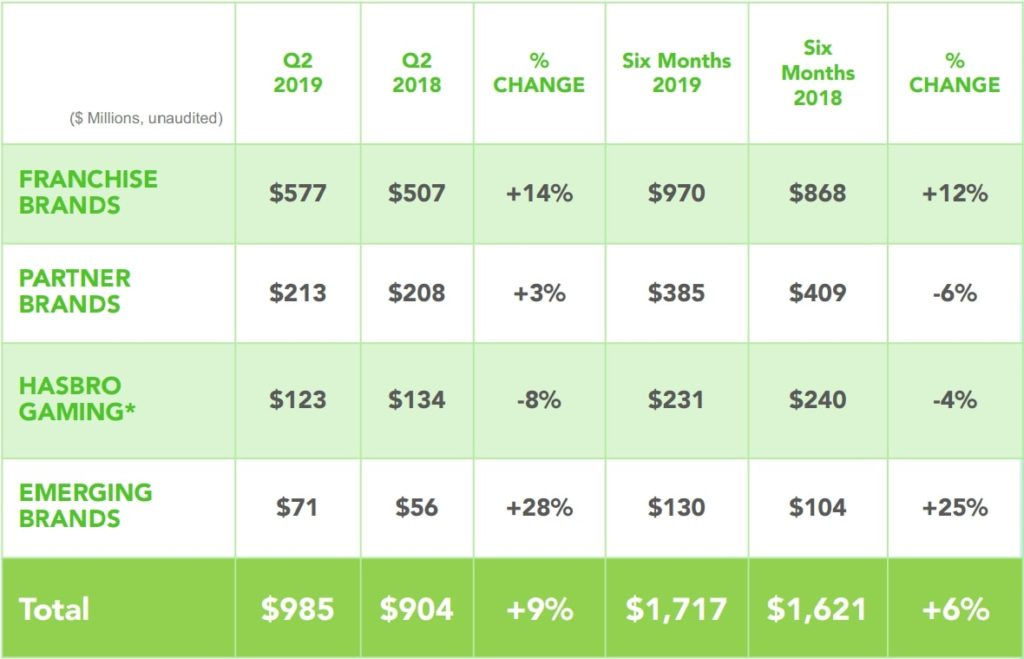 Hasbro's brand performance in Q2 2019. (Credits: Hasbro)
Reducing its dependence on third-party properties has become a priority for the toymaker. The same way Originals help Netflix diminish its reliance on third-party content, Hasbro now aims to emphasize its own portfolio. Acquiring eOne is a way to muscle up its storytelling power and better control the narrative around its brands, without relying on the adequate timing of its partners for developing, greenlighting, and producing the content it so desperately needs to promote its IP in the eyes of consumers.
New kids' IP to develop, and more creative freedom and control to do so, may help Hasbro refocus on its own assets, rather than help others develop theirs. In the first six months of 2019, Partner brands raked in $385 million, down 6 percent from $409 million over the same period in 2018; Hasbro's own Franchise brands were up 12 percent, while Emerging brands were up 25 percent. Overall, the contribution of Partner brands to Hasbro's performance has seen a steady decline: the category represented 22 percent of Hasbro's total brand revenue in Q2 2019, down from 23 percent in Q2 2018, 24 percent in Q2 2017, and 26 percent in Q2 2016. The addition of eOne's Peppa Pig and PJ Masks to its Franchise brands, and of upcoming series to its Emerging brands, will only accelerate this trend.
A new era, and a new game
Will this be enough?
IP owners have a tendency - and an incentive - to overestimate the value of their content. To their eyes, everything in their catalogue is top tier. Yet history has shown that even the most successful IP doesn't always find success in the marketplace - Star Wars alone is proof of that. Transformers and Ouija performed well, but Battlefield did not, and a Monopoly-inspired feature film might not either. Not every property make sense in terms of storytelling, which, in the end, is all that matters to consumers.
To make the most of their brands and improve their chances of success, IP owners still need to invest in the right talent, give development the time and resources it needs, and adequately market their products. The process will be especially important for Hasbro, whose properties today might lack the depth they need to make it on screens worldwide. Because Hasbro's key demographics skews younger, broadening the appeal of its brands will require a lot of work it the company's content is to reach blockbuster status.
Fortunately, Hasbro has proven to be resilient. For the 95-year-old company, the acquisition of eOne marks the conclusion to years of ambitions, and the beginning of a new era as a full-fledge entertainment company. It's a different set of rules, but Hasbro is game to play.