Discover more from Recreations by Maxime Eyraud
Exploring the intersection of media, technology, and culture.
On Stranger Things, New Coke, and Cracking the Brand Partnership Formula
How Netflix's brand partnership stragegy captures our attention, fuels fandom, and seizes the cultural zeitgeist.
"Sweeter. Bolder. Better." Credits: Netflix
If you've watched Season 3 of Stranger Things, you've probably noticed that the show left behind a peculiar aftertaste: the recognizable flavor of Coke.
That was on purpose. In a larger-than-life collaboration, Netflix partnered with Coca-Cola to integrate the company's brands and products into the new season of its hit show.
This wasn't your typical product placement, though, but rather the most visible part of what Netflix's new form of "brand partnership" — an initiative bringing together online and offline experiences through a choice of content, exclusive online destinations, and physical products.
Coke's presence in the show did receive some attention — if only because of its insistence. Palmer Haasch at Polygon, for instance, called New Coke "the weirdest pop culture throwback in Stranger Things 3."
What critics seem to have missed, however, is how the whole operation proved to be part of something much bigger for Netflix.
The company is increasingly trying to grow its cultural influence way beyond its organic reach, leveraging the brands and footprints of a diverse line-up of partners to expand the impact of its shows into the real world. Netflix's promotional efforts around Stranger Things are more than a one-off push: they point to the company's determination to generate cultural moments and fuel real-world fandom around its shows.
Do you see it yet?
Coke was everywhere this season. It was in the foreground, in the background, and in everyone's hands and mouths.
It stood on the table in Mike's basement, and on a bookshelf in Max's room; it was on the vending machine at the Hawkins Community Pool, and on a food stand at the Fourth of July fair; Eleven pulled a can of New Coke out of a trash can at the mall, and Mike and Lucas argued over the drink's merits at a convenience store.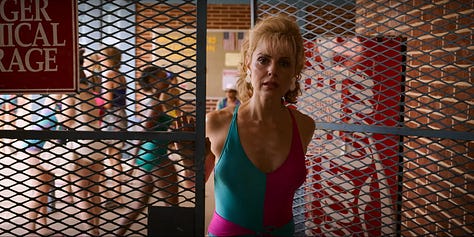 That last scene, in particular, went over-the-top. In it, Lucas is holding a can of New Coke prominently so that we, the viewers, can see the brand's logo. As his friends tease him for liking the beverage, Lucas stands firm, gulps down the content of the can, and, as if on a dare, describes New Coke as "Sweeter. Bolder. Better" — a seemingly top-of-the-head tagline that is, in fact, a variation of how Roberto Goizeta, Coca-Cola's chief executive in 1985, once painted the drink as "rounder", "bolder", and "more harmonious." The homage comes through loud and clear.
That may have been a little too much emphasis. Coca-Cola is strong enough a brand to be recognizable from its colors and look alone. You wouldn't expect any less of a company whose 1915 design brief asked for "A bottle so distinct that it could be recognized by touch in the dark or when lying broken on the ground." People don't need to see the brand's name to know it's a can of Coke — and they sure don't need to see it so many times, displayed so obviously, or to be served salesy slogans for comic relief.
A match made in heaven?
That the integration ended up feeling so forced is all the more surprising that this was, on paper, a perfect opportunity. Stranger Things pictures the right era (while the show overall takes place in the 1980s, this season is set in summer 1985, the year New Coke launched); the right place (rural America); and the right audience (kids & families). This season's underlying theme, the tidal wave of consumerism taking over the US, as embodied by Hawkins's shiny new mall, provided additional context.
From the start, Netflix and Coca-Cola seemed intent on making the partnership a success. The Duffer Brothers, the creative duo behind the show, said "It was one of the first ideas in our Season 3 brainstorm." According to Coca-Cola's corporate website, "Executives from Netflix visited the Coca-Cola archives in Atlanta last year to study New Coke packaging, memorabilia, advertising and more to ensure the script accurately reflected historical events and that all props and visuals stayed true to the time period."
The tie-in was also advertised long in advance. Both Netflix and Coca-Cola worked the buzz ahead of launch in their press releases, while the news was relayed in the media through numerous articles. Coke even brought New Coke back to life, producing a limited batch of the beverage as part of a promotional campaign for Stranger Things' new season.
The reason why the Coke placements failed to properly integrate with the story was because the deal was so important to both parties. It came with high expectations in terms of on-screen visibility, cultural relevance, and possibly commercial lift, and there was no other way to reach all those goals than by making the integration with the show a little bit obvious.
In fact, this says something not just about Coca-Cola, but about today's brands' desperate search for cultural relevance — and how they're trying to send signals in a world full of noise.
Searching for cultural relevance
In today's social-driven world, brands need to be able to identify and jump in on emerging trends if they want to be part of the larger cultural conversation. Those that fail to contribute, or only do so in ways that feel forced or inauthentic, are quickly left behind.
Unfortunately, exploiting the newest memes or writing witty tweets only gets you so far. If brands want to be seen and, more importantly, remembered in an overcrowded marketplace, they can't just rely on viral fads: they need to make a splash and create their own cultural moments.
That's the reason why advertisers still prize Super Bowl ads: everybody's watching them. Getting a spot during the game's commercial break enables brands to break through the clutter and be a part of the nation's popular culture for days — a multi-step process that may start on Twitter, move on to mainstream media, and end up in watercooler conversations. Once a year, a few lucky, deep-pocketed brands get to catch everybody's attention at once, leveraging the power of communal entertainment.
The problem is, such moments are scarce, and increasingly so. "Appointment TV", the kind of programming people make time to watch at the time of its original broadcast, is fading. Even tentpole moments in entertainment or sports can't seem to resist the tide. In 2018, both the Oscars and the Emmys posted record low numbers, while Grammys viewership saw an all-time low among 18-to-49 year-olds, the show's key demographics. In February this year, the Super Bowl drew its lowest TV audience in a decade. That the biggest live events on TV struggle for attention tells quite a story on the state of the industry, but brands looking for the best reach have reluctantly hung on to those premium ad inventories.
Of course, consumer attention didn't just vanish; it shifted. It moved somewhere else. And that "somewhere" today is mostly Netflix.
Building cultural moments
Thanks to a combination of on-demand convenience and bold bets on original content, Netflix is taking over, redefining what appointment entertainment can be, and repeatedly creating cultural moments from scratch.
In January, its massively promoted original movie Bird Box became a giant meme contest for everyone on the internet to indulge in. With Stranger Things, Netflix made a statement by releasing the new season on July 4th — a day most people in the US usually spend outside with their friends and families, not binge-watching a new show.
Arguably, this specific date did make sense from a 'meta' perspective — after all, part of the action this season takes place during the July 4th celebrations. But why July 4th, of all days? Why not July 3rd or July 5th, considering the action spans several days? Choosing that day, Netflix knew that it would be competing not just with other content providers, as it does on a daily basis, but with the real world, one filled with actual get-togethers and fireworks all over the US.
The reason is, Netflix actually wanted that competition. To gauge exactly how much appeal Stranger Things has, how much people love the show, what better way than to release it on one of the most culturally and socially charged holidays in the American calendar? A July 4th release optimized not for reach, but for influence: it gave Netflix the best possible field for measuring how much of an impact it's making on the popular culture. Even better: if the release did well, Netflix could boast numbers in the media; if not, nobody had to know anyway.
Netflix did deliver. On July 9th, the company revealed that 40.7 million households had watched the show since the premiere, and 18.2 million of them had already finished the new season. Although these numbers also include international audiences, it's likely a large share came from the US. That Stranger Things managed to pull audiences away from their social plans — or better, that it was their plan to watch the show on July 4th — speaks to Netflix's growing influence over US culture.
Sharing cultural footprints
Cultural influence, ultimately, is what the Coke integration was all about: no money changed hands in the deal, the NYT reported. For Coke, the entire goal was to find the best way into consumers' minds. As Geoff Cottrill, Coca-Cola's senior vice president of strategic marketing for North America, explained:
"We have always found the right pop culture moments to show up where people are having fun, and this is the latest example."
Coca-Cola couldn't have dreamt of a better opportunity. On the day of the premiere, viewers all around the world flocked to social media to share in the show's cultural momentum. Some were there to honor Alexei, this season's genuine Russian scientist whose love of cherry-flavored Slurpees made him a fan favorite — and a meme-worthy figure. Others reenacted the epic duet sung by Dustin and his girlfriend Suzie. Appearing alongside those storylines and characters enabled Coke to benefit from Netflix's cultural clout.
But the opposite is true, too: the same way Netflix offered Coke a platform to the cultural zeitgeist, it, too, was able to leverage Coca-Cola's own influence and reach. Coca-Cola's time-limited reedition of New Coke, which was made available both online and at Stranger Things-inspired vending machines in select cities, gave Netflix real-world visibility: a physical imprint onto people's minds. Limited supply, and the fear of missing out, helped turn the merch into prized collectibles, making it all the more valuable to Netflix. At the time of writing, Stranger Things Collector's Packs are going for up to $85 on eBay.
The deal thus proved to be mutually beneficial, as both Netflix and Coke got to build off their partner's sway. Their joint effort helped make the Stranger Things premiere a multifaceted operation spanning content (the show itself), online and offline destinations (Coke's retro website), and physical products (the 1985 Collector's Pack), with each part redirecting customers' attention to the others.
Similarly, the partnership as a whole stood as just one part of Netflix's broader promotional strategy: one node in what aimed to form a cultural net.
Real-world impact
While the partnership with Coke received most of the attention, it was only one of many.
For the third season of its hit show, Netflix partnered with roughly 75 brands across categories that ranged from apparel to food & beverage to software. Some, like Gap and JC Penney, had blatant product placements onscreen. Many others only used the Stranger Things branding for their own products releases and social media campaigns. Microsoft, for instance, released a companion app to the show (Windows 1.11), organized themed workshops at some of its stores (Camp Know Where), and gave away a collectible arcade cabinet. For most brands, the tie-in was enough to join in the show's cultural aura.
Individually, these deals had little impact for Netflix, as the marginal benefit that came with each additional partner in terms of visibility was negligible. Since how well a post performs on social media can vary tremendously depending on a brand's social savviness, Netflix had little control over the results of a given campaign. Knowing that its many partners would demonstrate various degrees of success, Netflix couldn't rely on any single one of them for a major publicity boost.
Collectively, however, these deals enabled Netflix to massively increase its cultural footprint, providing it with multiple touchpoints to reach customers in novel ways. Their strength lied not in how consistent they were with one another — they weren't — but in how far they expanded Netflix's organic reach, and how much their combined marketing power was able to spark customers' interest in Stranger Things.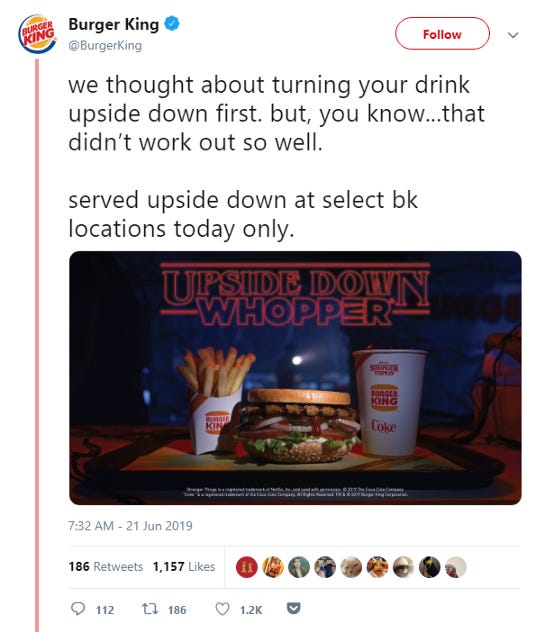 Together, they point to Netflix's broader strategy to nurture its audiences' connection with its shows — what Christie Fleischer, Netflix's vice president for consumer products, aptly calls "fueling the fandom." Through those deals, the company was able to supercharge customer interest ahead of the premiere: with exclusive menus (Burger King), toys (Funko and Baskin Robbins), sneakers (Nike), and many more products available, potential viewers were surrounded with physical reminders to tune in and watch the show. If they weren't fans already, seeing the brand tied to so many familiar places would likely make them at least a bit curious. Each partnership also came with its own offline-online viral loop, as consumers created content to share their experiences — in turn, further improving the chances that others would hear about the show.
There's another reason why creating a common momentum across all partnerships was so crucial. As Film School Rejects noted at the time of Season 2, Netflix's ability to turn its shows into cultural phenomena is largely constrained by its release model. Because Netflix releases entire seasons at once, it can't expect the anticipation and critical hype to build up from one episode to the next, the way networks do with their own shows. Nor can it rely on official promotion tools such as trailers or teasers in between two episodes. On-demand consumption in generall, and binge-watching in particular, also strip away the element of synchronicity, which used to ensure that viewers were culturally on the same page, watching the same show at the same time and pace. Therefore, the only variable Netflix can optimize for is the initial momentum: having viewers binge-watch the show as soon as it premieres helps promote the show through word-of-mouth before the interest fades out. Brand partnerships can help amplify Netflix's cultural signal in the race for viewers' attention.
It may come as a surprise that Netflix, a company that owes its current success to online ubiquity, decided to bet on real-world experiences and products. An online-only promotional approach could have fit nicely with Netflix's current interest in interactivity and gaming, while also shortening the path that separated those interested in the show from actually watching it online. By contrast, an offline play seems like it may have added unnecessary friction to the process.
But going the offline route had benefits. It enabled Netflix to cross the chasm and address fans in a new setting, one where it has had little to no presence until today — safe for billboards, and a few brand activations. Relying on diverse partners also meant connecting with diverse audiences, some of which Netflix may not have been able to reach on its own. Finally, an offline approach was the only way that Netflix could not just leverage, but strengthen the Stranger Things fandom. Visiting one of the two "Scoops Ahoy" ice-cream parlors not only let you immerse yourself in the show; it enabled you to meet other fans, be part of a community, and bond over a shared experience. Attaching the show to such positive moments only reinforced its appeal.
One of many experiments to come
All in all, Netflix's partnership strategy for Stranger Things reads as a large-scale experiment: a first, yet ambitious attempt at turning its online appeal into a real-world experiential footprint. It won't be the last.
As the company continues to grow its line-up of Originals, build adored franchises, and gain cultural relevance, it's in a position to use its most compelling intellectual properties to attract not just consumers, but the brands craving for those consumers' attention, too. Considering the total value of product placement advertising generated by Stranger Things in the first three days of the show's release was estimated at over 15 million dollars, Netflix shouldn't have much trouble finding demand.
Yet, if the way Netflix approached Stranger Things is any indication of what's next, that is not what the company is after. With Stranger Things, Netflix aimed not for product placements, but rather for brand partnerships. Product placements bring one-off revenue, and nothing more. Brand partnerships, on the other hand, may bring little to no revenue — at least not directly — but the way they "fuel the fandom" proves much more valuable on the long run, as it helps Netflix boost usage of its product, generate new subscriptions, and grow its cultural clout.
Not only that, brand partnerships also enable Netflix to quickly upgrade its operational toolkit, by learning from, and with its partners. Across its many Stranger Things partnerships, Netflix tackled not just product placements, but IP licensing, visual merchandising, and experiential marketing. These skills may prove useful if Netflix were to apply the same strategy to other Originals in the future. Or they could help the company diversify its revenue streams with new businesses, from selling merchandising directly to consumers, to operating its own branded theme parks.
How this strategy will develop is anyone's guess, but it could become a central part to Netflix's marketing playbook. To that end, Netflix will first need to define the best format for those partnerships.
Cracking the brand partnership formula
If Netflix is to make brand partnerships more systematic, it needs to answer a number of questions.
The first one has to do with the creative process. The reason why Stranger Things proved to be a perfect field experiment for Netflix is because incentives were aligned: the Duffer Brothers wanted Coke to integrate with the story, and Coke was happy to oblige. Other product placements made sense, too, considering the era, context, and demographics depicted in the show. Finally, the 80s have had enough of a cultural revival lately that a variety of partners were able to apply the show's retro look-and-feel to their own brands.
In other words, Stranger Things was the exception, not the rule. How many of its Originals could Netflix apply that same strategy to today? It's not just a matter of how successful a show is, either: even Orange Is The New Black couldn't provide the same opportunities as Stranger Things did. The biggest obstacle to Netflix's partnership play may be the very nature of its content.
Let's suppose a show did have room for brand partners. How many of those could Netflix accommodate? The brands that pay for traditional product placements are often granted some level of exclusivity. If, say, Aston Martin is to be James Bond's car of choice in a given movie, it can reasonably expect that no other car brand will be featured prominently in that same movie. Netflix's brand partnership strategy, on the other hand, finds strength in numbers: in the Food & Beverage category alone, Netflix partnered with Coke, Burger King, Baskin Robbins, and many others. And while those are by no means substitutes for one another, the overlap may understandably deter a brand looking for visibility. After all, the attention race is a zero-sum game: every bit of interest that goes to one brand is a loss for the others. Are Netflix's brand partnerships appealing enough that brands will play along with their competitors?
This applies across categories, too. Indeed, the incremental value that comes from adding new partners to Netflix's "cultural net" is currently captured by Netflix itself, not its partners at an individual level. Each brand that entered the Stranger Things experiment did so with its own incentives, leveraging the show for its own campaign: while the intellectual property was consistent, the initiatives weren't interconnected. Burger King didn't benefit from Nike joining the initiative, no more than Nike benefits from Microsoft joining. Therefore, while Netflix is aiming for large-scale cultural impact, its partners may have an incentive in limiting the number of stakeholders, so that they themselves can preserve the cultural rewards they can reap from the initiative.
It's also a matter of logistics. Offline operations are hard to scale, whereas Netflix today has the expertise to design amazing online experiences through "delightful engineering." Striking deals with so many partners takes time, and resources, from providing editorial guidance to approving the exact format of a brand activation. For instance, there were only two "Scoops Ahoy" pop-up parlors, both of which were in North America. At a time when domestic growth is slowing and international markets become increasingly important to the company's future, spreading marketing efforts more globally would only make those operations more costly in the future.
Finally, there's the issue of control. To ensure that the deals are mutually beneficial, Netflix will need to let its partners use their own tones of voice and personalities, knowing that not all of them will have the marketing skills to make the most of its intellectual property. At the same time, Netflix can't afford to give its partners too much leeway, or they might hurt its brand and intellectual property in the eyes of consumers. It happened with Stranger Things when a number of Baskin Robbins locations decided to sell an exclusive collectible toy for as much as three times its normal retail price, taking fans by surprise and earning well-deserved backlash on social media. Keeping everyone happy will require striking the right balance between creative and operational freedom, and brand consistency.
Coke's blatant product placements in Stranger Things' new season had one goal: turn what is usually a quiet commercial transaction into a cultural talking piece. And the only way for this to work was to go all-in, even if that meant overwhelming the story itself at times.
With dozens of partners, Netflix's real-world promotional strategy speaks to the company's determination to support its original shows in every way it can. With a widespread cultural net, Netflix is leveraging its partners' own expertise, and providing them with the best credentials they could hope for in a media environment that grows noisier every year: cultural relevance.
At a time when pundits have started doubting the company's future, with some even predicting the inevitability of ads coming to the service, brand partnerships show promise. They enable Netflix to build on its existing intellectual property, delight consumers in novel ways, and establish relationships with a diversity of partners. As the Stranger Things experiment points to grander ambitions, brand partnerships could be Netflix's best chance at owning our collective zeitgeist.